On March 9th, 12:15 – 12:45 PM EST Amy Brunvand will present, "STARS and Beyond:  Adventures of an embedded Librarian in the Campus Sustainability Office." To register for the webinar, click here.
About the webinar: During the past year Amy Brunvand, an academic librarian at the University of Utah, has been on leave from the library in order to work out of the campus Sustainability Office.   Her main project was helping to compile a Sustainability Tracking, Assessment & Rating System™ (STARS) report ,a transparent, self-reporting framework for colleges and universities to measure their sustainability performance that is used for ranking by Sierra Magazine and Princeton Green Schools among others.   Along the way she gained insights into what drives campus sustainability and how academic libraries and librarians can get involved in and offer support to sustainability efforts across the whole campus organization.   [30 mins]
Bio: Amy Brunvand is an academic librarian and government information specialist at the University of Utah where she has spent the past year on leave working out of the campus Sustainability Office.  Besides librarianship, she writes a monthly environmental news column for Catalyst magazine (catalystmagazine.net).  She also writes poetry, and her poems have recently appeared in Dark Mountain, Kudzu House Quarterly, saltfront, Terrain.org and the anthology "Nuclear Impact: Broken Atoms in our Hands."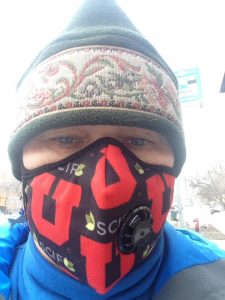 Librarian Amy Brunvand waits for the bus in an air pollution filter mask that was distributed as part of a University of Utah student project to call attention to air quality problems.