By Raymond Pun and Heather Christenson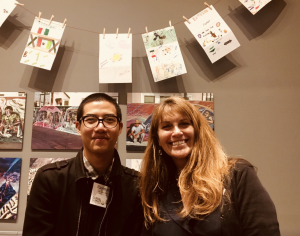 The Global Climate Action Summit (GCAS) 2018 was held in San Francisco from September 12 – 15, 2018. GCAS was an international summit to convene meetings to discuss, explore, share and collaboration with different states, regions, cities, companies, stakeholders on climate action. In addition, affiliated events were also held all week throughout the Bay Area.
Sustainability Round Table members Ray Pun and Heather Christenson attended an affiliate event called Climate Heritage Mobilization (CHM) held at the California Historical Society. This one day conference was organized by the "California Office of Historic Preservation in conjunction with national and international partners. The event's purpose is to mobilize the cultural heritage and historic preservation sectors for climate action in support of the Paris Agreement." In this blog post, they will reflect on their experiences attending the CHM.
Heather's Perspective
The Climate Heritage Mobilization gathered over 100 committed people from a wide variety of disciplines to take on the weighty topic of identifying the intersection of cultural heritage and climate change. We were challenged to consider — what are the needs of climate action? What are each of us good at? I was pleased to attend the meeting as member of SustainRT and represent the library perspective.
Andrew Potts, Co-Chair of the ICOMOS Climate Change & Heritage Working Group, began the meeting with a comment on the value of having a "cultural heritage meeting at a climate conference, rather than climate meeting at a cultural heritage conference." A key theme in the many presentations and panels throughout the day was that, ultimately, the solution to climate change will be a social and cultural one as much as a scientific one. Many of the presenters provided very specific cultural perspectives, and in aggregate these perspectives formed an encouraging kaleidoscope of possibilities and examples. A takeaway here is that no one size fits all, the local community knows best and needs to be involved, and at this critical moment, all solutions should be on the table.
One remarkable panel showcasing "Heritage as a Vector for Climate Action, Justice, and Research" featured speakers that included Queen Quet of the Gullah/Geechee Nation, Dr. Brenda Ekwurzel, a Sr. Climate Scientist at the Union of Concerned Scientists, Alison Tickell of Julie's Bicycle, and Saúl Vicente Vásquez who coordinates community efforts with the FAO in Oaxaca Mexico. Queen Quet challenged the group to consider wide cultural inclusion to work effectively together, pointing out that even our social, talkative, lunch at a restaurant represented a cultural norm not shared by all. Dr. Ekwurzel described artifacts being revealed by the retreat of Arctic ice, and how "archaeology can't happen fast enough – how can you even prioritize?" Mr Vasquez described how culture can be a key component of food security and how "food sovereignty" based on local wisdom rather than an industrial model was achieved by his community. Alison Tickell described how her organization funds strategic integration of climate change as a theme in the arts, in order to normalize climate change and integrate it into mainstream culture.
Another standout presentation was from Oscar Guevara, Climate Change Adaptation Specialist for WWF-Colombia. He urged us to focus on articulating value relative to climate change, his example being that the rainforest he oversees was initially valued and set aside as a UNESCO World Heritage Site because of its extreme biodiversity, but times changed and now when he speaks about the rainforest's value, he focuses on how much carbon it captures. He described how "conservation" is no longer a viable term and we need to now think instead in terms of facilitating transformation and enhancing resilience. Another point he made that resonated with me was " [current] legal frameworks are not designed for adaptive management –they are designed for a fixed situation."
Localization and community involvement in solutions was a common theme, and speakers described how direct experiences with the effects of climate change have resulted in increased political and social action. For example, Daniel Zarrilli, Senior Director of Climate Policy and Programs for the City of New York, described how in 2012 Hurricane Sandy was a turning point for the city in addressing climate change. "What actually changed was…reality! It is now not in the future," he said emphatically.
I was impressed with the diversity and scope of subject matter presented at this meeting, and with the intelligence and enthusiasm of all the speakers. At the group lunch, connections were made as conversations turned to people's children and to commiseration over the feelings generated by the daunting topic.
If nothing else, awareness of the number and variety of actions being taken, and many people involved across disciplines is heartening. I would encourage my colleagues to seek out cross-disciplinary meetings such as this one, if possible, and forge connections outside of the library sphere. Our wisdom as stewards of our collections, and long view of preservation, format migration, and availability of resources over time should be shared more widely. Libraries are also at the center of community, and we as librarians also have wisdom to share regarding frameworks of community support and engagement.
Ray's Perspective
CHM was a great opportunity to explore and learn from politicians, policymakers, conservators, academics, architects, librarians, activists, preservationists, and scientists were working collectively on to address how climate change affects cultural heritage. I attended this conference on behalf of IFLA (International Federation of Libraries Associations and Institutions) to identify opportunities for future partnerships on how libraries can support and preserve cultural heritage collaboratively. Many speakers addressed what is Climate Heritage Mobilization and why does it matter from their perspective?
One presentation that stood out to me was Executive Director Andrea Carmen's talk on indigenous perspective relating to climate heritage. Carmen is from the Yaqui Nation and International Indian Treaty Council; she presented on the indigenous knowledge of resilience, and the ongoing teaching and learning process that should include indigenous people when addressing climate changes that deeply affect their communities. She shared different examples of how Native Americans have protested and raised concerns of climate change and how to include their rights into international treaties and recognitions.
In addition, there were presentations from mayors around the world including Assisi in Italy and Chefchaouen in Morocco to share how urban planning process in addressing climate change and in support of cultural heritage. During this day-long event, I met with many advocates including museum professionals from International Council of Museums (ICM) who were interested in collaborating with libraries and archives in supporting conservation and preservation approaches to cultural artifacts including books, manuscripts and archival documents. I thoroughly enjoyed the many different talks because this really gave me a multiperspective on of what other professionals are doing. For example what architects are doing or what policymakers are interested in to address climate heritage.
What can and should libraries do? There are definitely ways for our group (Sustainability RT) can consider from liasioning with different organizations and associations to creating more outreach and awareness of climate heritage too. You can also find the discussions on social media, particularly Twitter under #climateheritage for more information about this affiliate event. You can also follow #GCAS2018 to explore other past events too.
Interested in these discussions? Check out these upcoming events and see how you can get involved as well:
Culture: Conserving It Together (the Pan-Pacific Heritage Conference) in Suva, Fiji on October 1-5, 2018
PastForward 2018 (the US National Historic Preservation Conference) in San Francisco on November 13-16, 2018
ICOMOS Scientific Symposium on "Sustainability: cultural heritage and sustainable development" in Buenos Aires, Argentina on December 7, 2018
International National Trusts Organisation Conference in Bermuda in March 27-30, 2019
Sign up for updates with the Climate Heritage Mobilization!