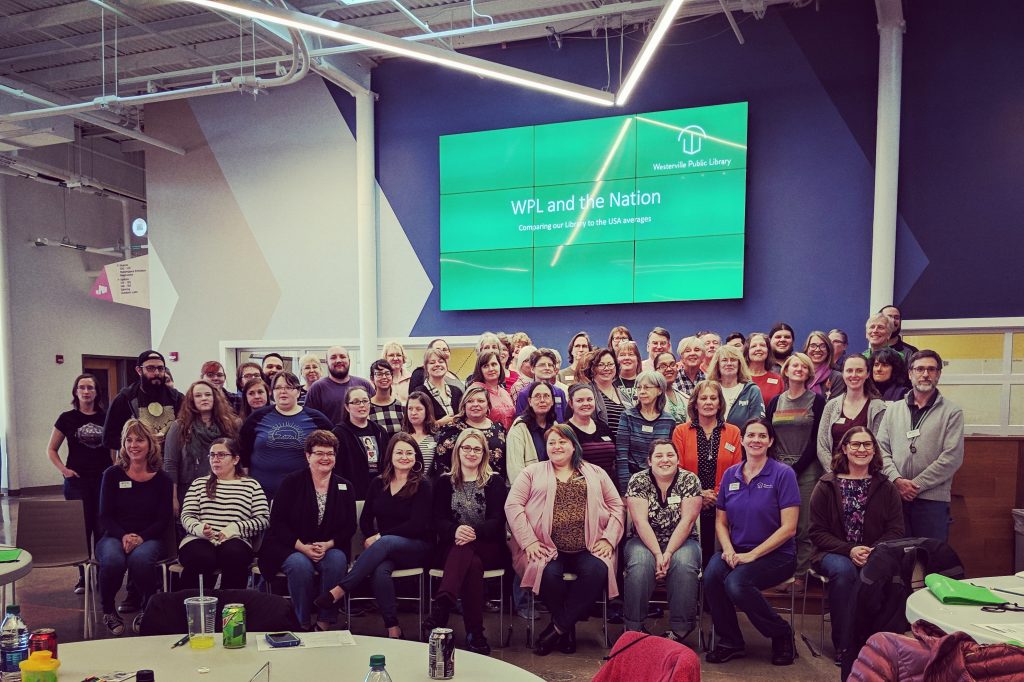 The Westerville Public Library will be awarded the 2021 SustainRT Citation for Wellness in the Workplace in recognition of the great strides the library has made in pay equity for their library workers. In autumn 2020, the library board passed a new pay range scale that resulted in a 34.80% increase for the lowest pay ranges in the organization starting in the new fiscal year. This citation awards their progress towards meeting the needs of staff and promoting wellness through a commitment to pay equity for library workers. SustainRT Coordinator,  The citation helps promote the work done by leaders and provide examples of what can be done to foster staff wellness. 
The new pay range scale consulted pay ranges in similar local industries and the Massachusetts Institute of Technology's Living Wage Calculator to ensure that even the lowest pay range in the organization provided a living minimum wage for Franklin County, where the Westerville Public Library is located. This new strategy resulted in pay increases for all library staff—but most importantly, the largest increase went to those library workers in the lowest pay ranges. Across the board, staff received a 3 percent raise, with workers in the lowest pay range receiving a 20.4% increase from the pay range midpoint as well as an annual raise of 3%, resulting in a 34.8% raise overall from 2020. By raising the wages of their workers across the board, the library has not only demonstrated a commitment to fair pay and pay equity, but shown library workers that their work is valuable. Additionally during the economic downturn brought on by the pandemic, the Westerville Public Library administration was able to maintain staff salaries by reducing general operating funds by 20%, enacting a hiring freeze, and offering voluntary furloughs for employees not ready to return to work. Instead of cutting library worker wages during a time of financial hardship, the Westerville Public Library chose to expand worker wages.
SustainRT is pleased to recognize the efforts of Westerville Public Library to address staff wellness and pay equity with the 2021 Citation for Wellness in the Workplace. Representatives of the library will receive a plaque from SustainRT in recognition of this achievement at the roundtable's annual membership meeting during ALA's Annual Conference.
SustainRT's Citation for Wellness in the Workplace carries on the work begun by ALA Past-President Loida Garcia-Febo with her Presidential Citation for Wellness in the Workplace and her commitment to the wellness of library workers. Garcia-Febo says, "As a woman with deep interests in mental and physical health, and the well-being of library workers, wellness is of utmost importance to me. Libraries have the power to help transform lives through efforts promoting wellness. I hope this citation motivates libraries everywhere to support the overall well-being of their staff."
For questions or more info, see SustainRT Citation for Wellness in the Workplace page or contact SustainRT Coordinator, Casey Conlin.