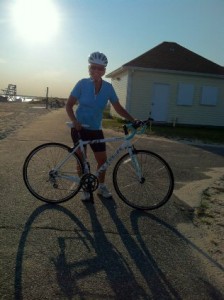 K-cups and bottled water will be the death of me!
If you don't use it, then you don't need to recycle it. I am a bit of a cynic regarding recycling as a solution to the huge volume of trash that we (as a society) produce on a daily basis, because of the waste of valuable resources. I believe that small personal changes add to big changes in society. I try to live in a sustainable manner by reducing my own personal footprint, and by extension in my work life.
I have always been interested in sustainability issues; I've composted, recycled, reused, and reduced, long before these terms hit the mainstream lexicon. In one of my previous lives (don't we all have a few!) I was on my way towards a graduate Certification in Waste Management from Stony Brook University. I have seen landfills, sewage treatment plants, and recycling plants up close.
Another "life" got in the way, and I moved on to a job as an electrical estimator, where I learned about building construction and LEEDS certification. During the 90s, when libraries were experiencing a renovation and building boom, I became the "library expert" for my company and got to visit libraries all over Long Island, and worked on a number of library building projects.
This led to my current career as a children's librarian, where I am in a position to inform and educate our patrons on everything and anything. I want to be able to provide information that is socially equitable, economically feasible, and environmentally sound. Even though libraries are known for good stewardship of resources, I am shocked by the waste of resources that happens on a daily basis, whether it is the half empty bottles of water or piles of empty K cups, that get thrown out; and in the children's department, lots and lots of cheap plastic crap that is basically landfill material. If these little day to day things that we do as libraries do not engender a sustainable, resilient, and regenerative environment, then even a Gold LEED Building Certification will be of no value to a community.
I am a full-time children's librarian at Half Hollow Hills Community Library and I also work part time at Mastics Moriches Shirley Community Library. Most of my programs are run using primarily recycled or reused materials, and I am always looking for new ways to incorporate greener practices into our daily work.
After Super Storm Sandy, I saw first hand the power of a resilient library community, MMS was a haven for the people that lost so much due to the storm,(https://www.nyla.org/max/userfiles/uploads/JLAMS_14_15V11N2comp.pdf).
After the storm I was so proud to be part of American libraries (so many do amazing work!) and I am running for the member at large position to work to inform and educate our staff on the ways provide library services in a sustainable manner to our patrons.