Dear SustainRT Members,
My name is Susan Conlon and I am candidate for Member-at-Large of SustainRT, and I hope you will consider electing me to this position. It would be my honor to serve to make a contribution to its core objective to "exchange ideas and opportunities regarding sustainability in order to move toward a more equitable, healthy and economically viable society."
First and foremost professionally I am the Head of Youth Services at the Princeton Public Library in New Jersey and I love my job. It's a welcoming and shared public space connecting a diverse, international and vibrant small university town with a place for people of all ages to gather, explore, learn, and play.
Combining my passions – being an advocate for social and youth justice, film fanatic and promoter of sustainability for the planet – with the opportunity to work in an organization that values collaboration between departments and thinking outside the box, I founded the Princeton Environmental Film Festival in 2003, and I've have been leading it since. It has grown to become one of the library's signature annual programs and its commitment to advancing environmental literacy.
Creating and renewing the festival each year illustrates why I think I'd be a good addition to SustainRT as a Member-at-Large. I have a proven track record of working with people, engaging and involving the community, and identifying, imagining, and implementing a unique way for libraries to be vital institutional leaders in environmental sustainability.
The content of the festival crosses over and intersects with many platforms, from film, to literature, science, art, poetry and even fashion – our "Trashion Show" featuring youth wearing their creative designs crafted from recycled materials they proudly walked red-carpet style was a huge hit.
You can view the festival website and get a preview of the films in our upcoming event starting March 27 at www.princetonlibrary.org/peff.
Here's a bit more on my background: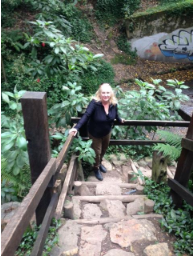 I graduated from Rutgers University where I studied English and Art and returned later when my three children were in school to get my MLS.  
I am crazy about books, dogs, movies, and spending time in cities and the natural world. While libraries are my favorite shared built-spaces, my love for two places in the natural and outside world were shared with me and nurtured by my parents; my city-born and raised father and I discovered trees and a quest to learn about their unique identities; and my mom, whom I suspect was part-porpoise, grew up in a small town on the Jersey shore, where she lured me into the ocean to swim and made me love big waves.
~ Susan