Nine Reasons for Hope in a World Out of Whack
(Thurs. Nov. 9 12:15-12:45pm EST)
Please join us Thursday, Nov. 9, 12:15 – 12:45 p.m. EST for the Fall 2017 SustainRT webinar.
Our speaker will be Ellen Moyer, author of the book Our Earth, Our Species, Our Selves: How to Thrive While Creating a Sustainable World.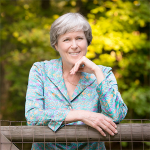 Dr. Moyer, a registered professional engineer and a U.S. Green Building Council LEED Accredited Professional, helps government agencies and Fortune 500 companies clean up hazardous waste sites, prevent environmental damage, analyze impacts, and provide educational outreach. She will talk about reasons for hope that we can solve dire environmental problems such as climate change facing our world and successfully upgrade to a high-tech and high-nature way of life that will sustain us and our fellow species far into the future. Dr. Moyer will also share concrete actions we can take to help ourselves and our world at the same time, including the one most important action for getting started. Attend the webinar on November 9 to find out more!
Register HERE. Free and open to all.