I absolutely cannot grow anything.  My list of casualties include hostas (I blame the deer), red shamrock (it froze outside, but in a beautiful planter), rosemary (never even had a green shoot), tulips (I dug the bulbs up accidentally), African violets (who knows what I did wrong), and a cactus (over-watering). When I said I wanted to start a seed library, my coworkers were justifiably skeptical.
The idea was planted like most are: a patron had asked if our library, Lewis Cooper, Jr. Memorial Library in Opelika, Alabama, had a seed library and in the same week I had seen a flier for the local community garden, O Grows Community Garden. Initially, my only goals were to provide a risk-free way for our community to participate and a new avenue for adult programming. I did some digging to find the person behind the community garden and found Dr. Sean Forbes. Dr. Forbes was gracious enough to meet with me and Laurie Hackney, our Reference Librarian. He told us about his exciting work with Opelika Grows through Auburn University. He had already partnered with several area elementary schools and Opelika Middle School to get kids outside and in the dirt. There was an existing seed library through Auburn University and Dr. Forbes scheduled a meeting to get all the key players together.
Through that meeting, I was fortunate to meet Patricia Hartman, a Librarian at Auburn University. We talked about the Auburn University Seed Library and discussed how I could get started in Opelika. Ideally, I would have seeds saved from locally grown plants with a focus on heirloom edible and flowering plants and native plants. That is what we are continuing to work towards, but we started with a seed donation from Seed Savers Exchange. For the cost of shipping, we were able to get a large quantity of seeds to kick start the seed library in Opelika.
My goals for the seed library are still simple: provide a low-cost way for people to try growing something, provide a mechanism to sustain the rich vegetation heritage of our local plants, provide a resource for the community to get involved with the agricultural community that surrounds us, and open up a new avenue for adult programming.
As part of my 2017 program planning, I reached out to Pat Giordano, a member of the Lee County Master Gardeners whom I met through the initial meeting with Dr. Forbes and Ms. Hartman. Because my gardening knowledge is slim, I invited her to come to Cooper Library and help me evaluate our item selection on gardening. She was delighted to help and I was delighted to learn that we had almost everything on her essential reading list. We also discussed a program series to introduce people to gardening and once we get closer to preparation and planting time, we will begin to offer a range of introductory-level gardening classes in partnership with the Master Gardeners.
Other types of outreach and partnerships in our first year included:
Visiting area nurseries to let them know who we are, what we are doing, and to let them know we want to increase the amount of people interested in planting and growing who will eventually need to use their services. We absolutely are not trying to steal business from anyone and we want to make sure any fears to that end are eased.

Having a table at the weekly farmers market to educate the community about our existence and to increase participation on our mailing list.

Attending area agricultural events. My favorite was the Waverly Tomato Showdown. They have live music, an all you can eat BLT bar, and a contest for the best tomatoes. We were able to save seeds from the award winning tomatoes that are proven to grow in our area. It was also a fantastic way to get the word out about our seed library and educate the community about seed saving.

Using the resources available through Auburn University Extension Services (

http://www.aces.edu/main/

) to offer things like planting calendars and other info about gardening. It is also a way for our library to help the community know about their services.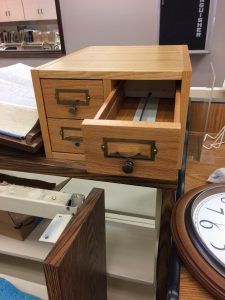 Our seed library is in an old, small, four-drawer card catalog cabinet. We have the seeds sorted into three of the drawers: flowering plants, herbs, and fruits/vegetables. The fourth drawer contains empty envelopes and instructions for leaving donations. At this time, none of our seeds are in the digital catalog, but I plan on adding them before Spring of this year. Our set up is not fancy, and we were able to use existing materials and equipment to keep the investment to a minimum. So far, I've spent $5 to make this happen. We have had a lot of interest from the community and I anticipate 2017 is going to be a great year!
If you are interested in starting a seed library, I would recommend:
See if anyone else in your area is already doing it and try to work out a partnership. My connection with Patricia Hartman at Auburn University has been invaluable and given me access to educational resources I wouldn't have known about otherwise.  

Don't worry about making it perfect! It doesn't have to be perfect to be good and to serve your community.

If you are like me and have a black thumb, find someone to be your guru. Your local Master Gardeners will be an excellent resource and I'm sure they want to help you get more people involved with gardening.

Look around your library for places you can grow things. We have two planters out front that are currently empty, but we will be planting easy herbs in them come Spring.

If it is slow to start, don't worry! New things take time to catch hold.
Submitted by Rosanna McGinnis
Rosanna McGinnis received her MLIS in 2010 from the University of Alabama. Her professional career started with the United States Marine Corps Libraries as the Acquisitions Librarian in Okinawa, Japan. She then transferred to Marine Corps Air Ground Combat Center in Twentynine Palms, California as the Library Director. In January 2016 she made the jump to public libraries as the Director for the Lewis Cooper, Jr. Memorial Library in Opelika, Alabama. She is hopeful that 2017 will be the year she manages to successfully grow something. You can follow her on Twitter @RosannaMcGinnis or email her at rmcginnis at opelika-al.gov.