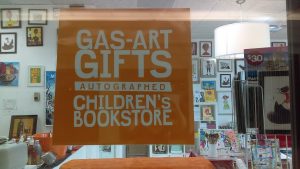 Visit Decatur, Georgia, and you'll quickly notice that it's one of the most eclectic neighborhoods in Atlanta.  Down the road from the African American storefronts and mega-churches, nightclubs, and braiding salons are trendy haunts and quietly plush homes where the upper middle class raise their families.  Just beyond this, a vibrant South Asian community has flowered and brought with it jewelers, sari shops, grocery stores, and beauty salons.  In the thick of it all is GAS-Art Gifts Autographed Children's Bookstore owned and operated by Coretta Scott King Book Award-winning illustrator R. Gregory Christie.
GAS-Art Gifts, short for Gregarious Art Statements, is unique.  Located inside Decatur's North Dekalb Mall, it blends the feeling of an upscale art gallery with a come-one-come-all community center where visitors can choose to engage their own creativity or simply shop.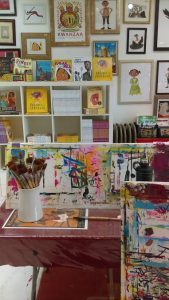 Opening a store was a chance opportunity that came when an art dealer operating in the mall invited Christie to display his books for Black History Month. "Black grandmothers and soccer moms of all ethnicities cleared my table off each week. And before I knew it, I had to keep ordering cases of books to keep up with the demand," Christie says, sounding both amused and deeply appreciative.
From there, he transformed what he describes as a raw and uninviting space into what can now only be described as a brightly hued oasis.  It's the kind of space that Christie would have appreciated having when growing up in suburban New Jersey, where museums and art education were sparse.  He drew inspiration from any place he could, namely the library and public television.  "Art was a savior for me, says Christie, "It built my self-esteem." Over time, art also opened doors for him to live abroad in various European cities. Ones where he says, "If someone decides, 'I want to be an Egyptologist,' they can study that, and they don't have to go broke." He wants to share that same expansive vision with his young customers.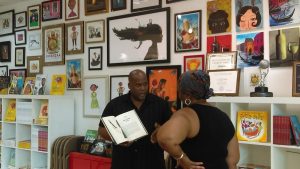 Christie says that he spends about seventy hours a week working in his store.  "I do everything from sweeping the floor to cleaning the toilets to shaking the hands of anyone who comes in."  And because GAS-Art Gifts also serves as his studio, it gives his young and old visitors the rare opportunity to see an artist at work.  Getting to meet his book-buying audience is gratifying.  He says, "It keeps an internal balance for me.  I can have a flow of words and consciousness.  What I'm thinking can be expressed because I'm always speaking to people."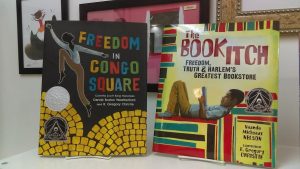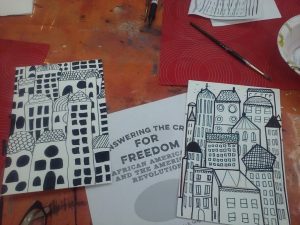 Christie goes on to add, "Because this mall has been good to me, I pass it on to the customer." He does this by offering affordable individual and group instruction as well as paint parties for children and adults. And while he says that his motivation is to address some of the grave inner deficits that he sees growing in society, he emphasizes that his store is a service, not a charity. "Yes, this shop is for profit. But, it's very fair."

While serving the community, Christie has also found time to help promote the work of The Sweet Blackberry Foundation, with whom he has collaborated to make animated films.  These accompany the books that he and the actress Karyn Parsons have created to tell the stories of marginalized African American achievers.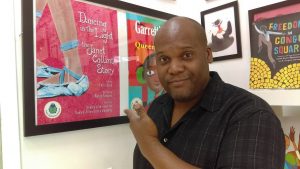 Creating new work, appearing at festivals, doing school visits, and managing a store may seem like a lot for some.  But Gregory Christie seems to believe in the old African American adage of lifting as one climbs.  "Maybe thirty years of my life have been spent learning everything I can.  Bookbinding, sculpture, painting, photography.  I've gained a lot of knowledge, and I want to teach people things that I wish I'd known."
Post by Jené Watson
Jené Watson works as a public librarian at a system in suburban Atlanta, where she coordinates Books in the Barbershop and family meditation programs.  She is the author of The Spirit That Dreams: Conversations with Women Artists of Color.