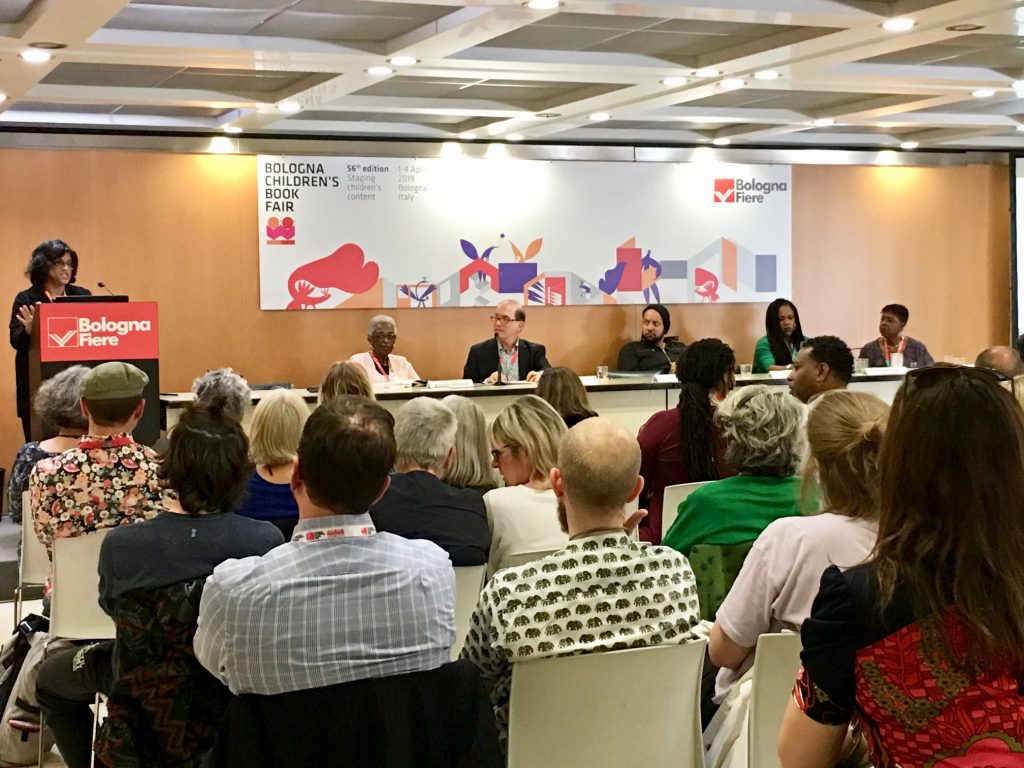 The Coretta Scott King Book (CSK) Awards Committee/Community was well represented at the 56th edition of the Bologna Children's Book Fair in Bologna, Italy, April 1-4, 2019. The CSK Community was invited to present at a flagship event titled: Black Books Matter: African American Words and Colors. The goal of the presentation was to promote the importance of diversity in children's books at this international festival, with a special focus on African American literature and illustration.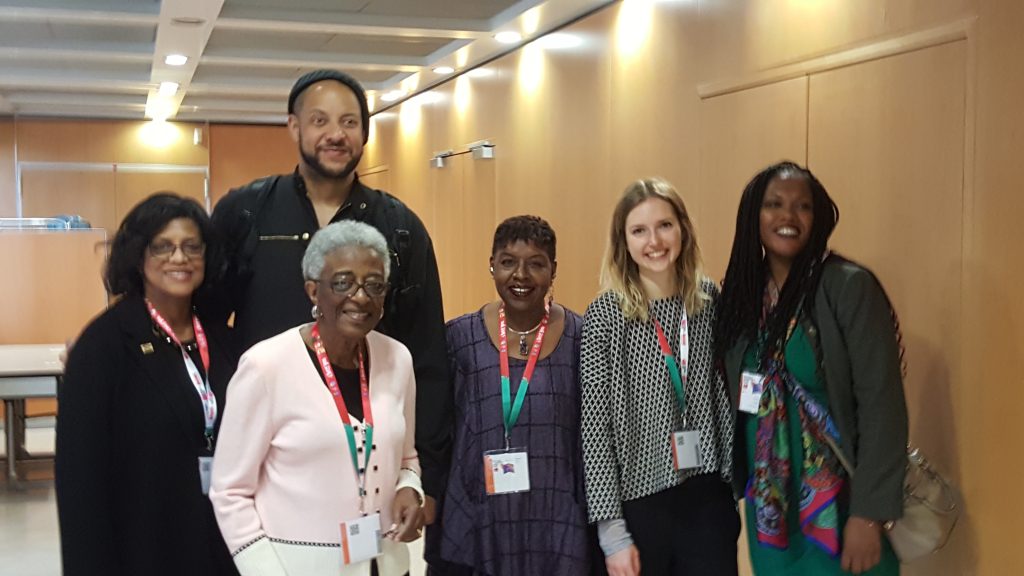 The distinguished panel included: Dr. Claudette S. McLinn, Chair of the Coretta Scott King Book Awards Committee; Dr. Rudine Sims Bishop, Author and Professor Emerita at The Ohio State University; Christopher "Chris" Myers, CSK Award-winning author and illustrator; Nikki Grimes, CSK Award-winning poet and author; and Joshunda Sanders, author and journalist. Leonard S. Marcus, critic and historian of children's literature was the moderator.
The thought-provoking discussion centered on the various representations of African American life and culture. It also focused on the Coretta Scott King Books Awards, one of the most important prizes in children's literature. Many questions were generated from the packed meeting room with varying viewpoints from the international attendees.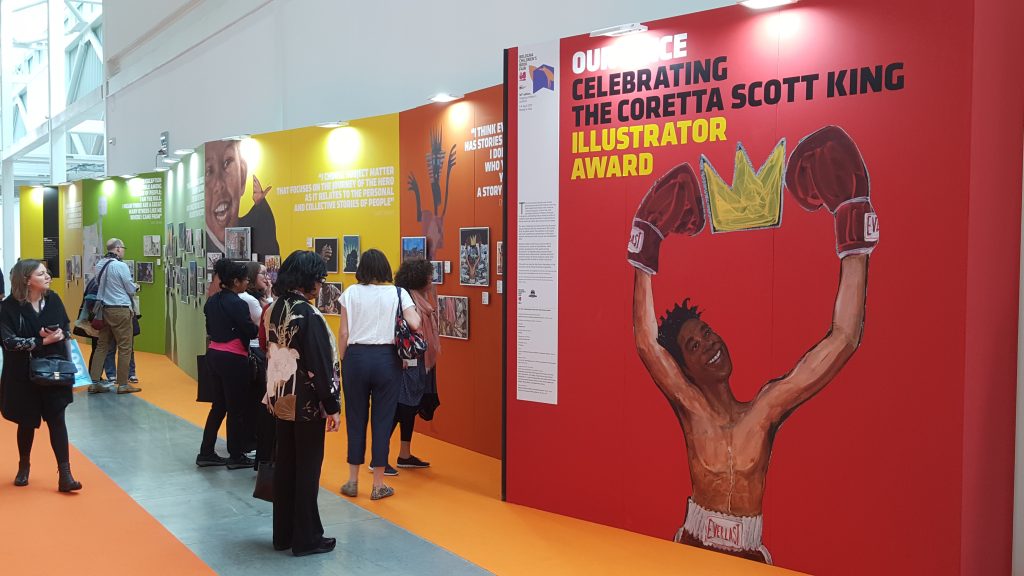 The event was paired with the art exhibition Our Voice: Celebrating the Coretta Scott King Illustrator Award, which showcased the work of over 30 major picture book illustrators and their representation of life, history, and culture of African Americans. This exhibition was organized by the National Center for Children's Illustrated Literature (NCCIL) in Abilene, Texas, to celebrate the 50th anniversary of the award.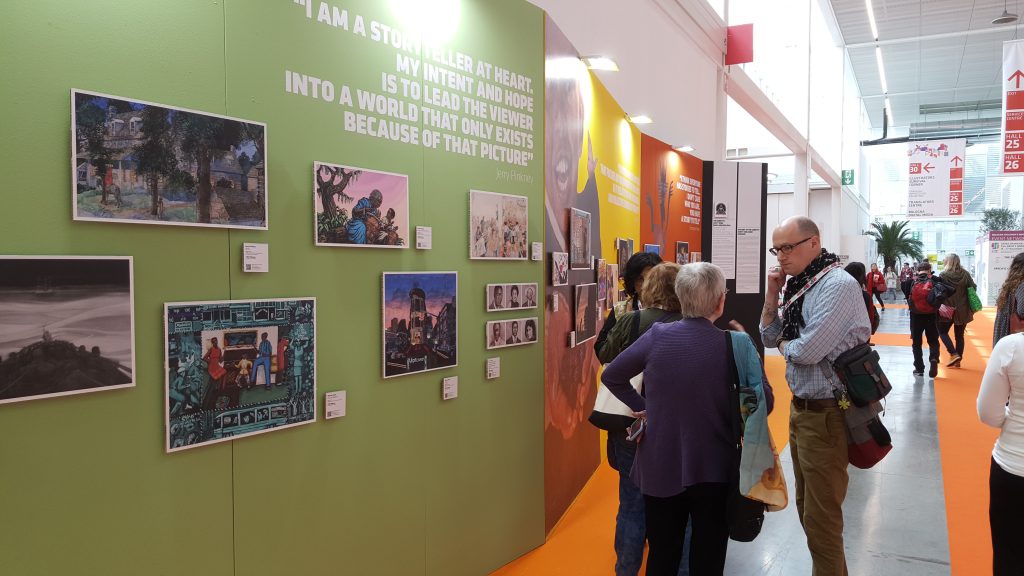 CSK members who attended the Bologna Children's Book Fair events were Therese Bigelow, Mary Beth Dunhouse, Dr. Elizabeth Poe, and Barbara Scotto.
This panel presentation and art exhibition was a true excursion into the African American experience, which was intensified by the lively exchange between the panel members and audience. In the words of Therese Bigelow, "What an amazing experience!"
Dr. Claudette McLinn is Chair of the Coretta Scott King Book Awards Committee. She is the Executive Director of the Center for the Study of Multicultural Children's Literature.