The Miami University Art Museum (MUAM) in Oxford, Ohio, currently boasts a treasure trove of original artwork from African American children's book illustrators. This picture book gold can be found in Telling a People's Story: African American Children's Illustrated Literature, an exhibition of approximately 130 works by 33 artists from 88 books, which runs at MUAM through June 30.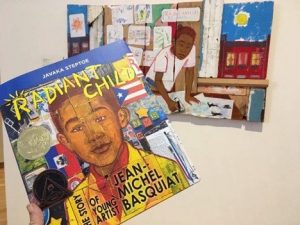 Among the artwork on display are pieces from Coretta Scott King Illustrator Awardees past and present, from Tom Feelings and John Steptoe to Ekua Holmes and Kadir Nelson. And, in a nice touch that one doesn't often see at art galleries, visitors can find and read the books the art came from below each piece while browsing the exhibit.
A conference will take place in conjunction with the art exhibition from April 20-21 at MUAM. Among the CSK alums presenting at the conference are R. Gregory Christie, Ekua Holmes, E.B. Lewis, Jerry Pinkney, Javaka Steptoe, and Shadra Strickland.
Jason Shaiman, Curator of Exhibitions at MUAM, said of this conference: "I'm so excited to be able to bring several major illustrators together in one place, and to hear their perspectives…. [In a picture book], we hear the words of the author through their words, and we see the voice of the illustrator through their illustrations, but [the conference] is an opportunity to actually hear the words of the illustrators."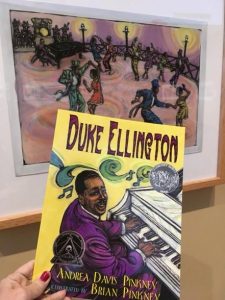 For more information on the exhibit and conference, please visit http://blogs.miamioh.edu/tellingapeoplesstory/. In addition, local radio profiled the exhibit here and here.
Sam Bloom is Senior Children's Librarian at the Blue Ash branch of the Public Library of Cincinnati and Hamilton County. He is the Chair of the CSK Book Awards Jury.