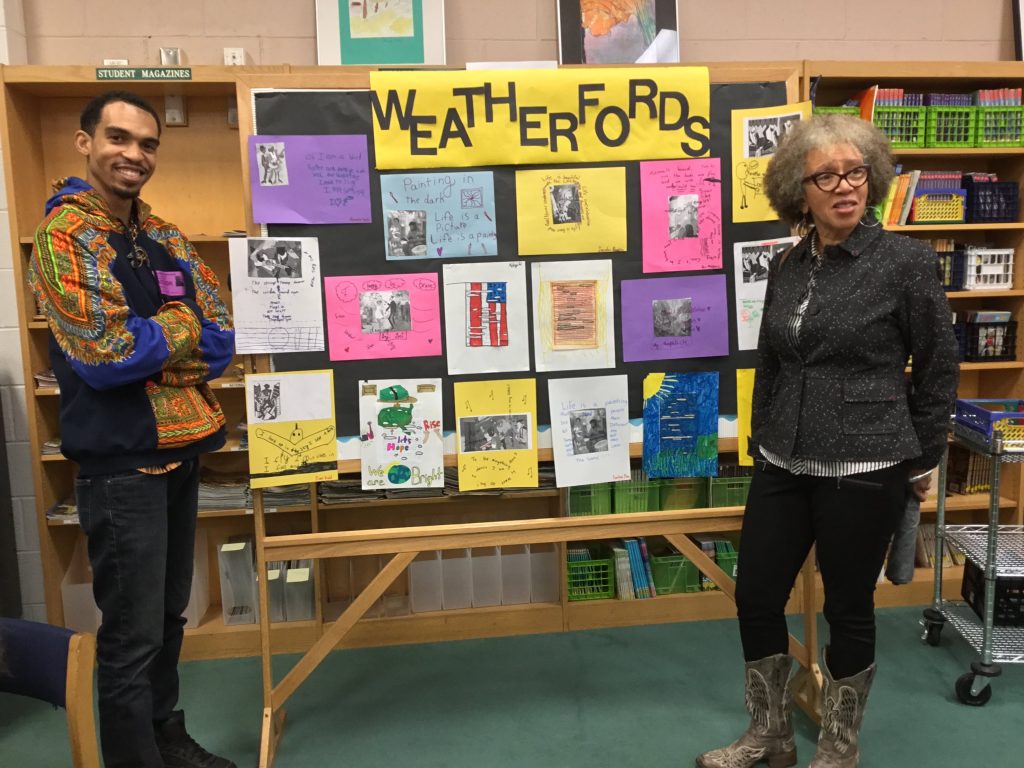 Nearly one year ago, Coretta Scott King Book Award Honoree and three-time Caldecott Honoree, Carole Boston Weatherford, traveled to Wilmington, NC, a coastal town, with her award-winning illustrator son Jeffrey Weatherford to share their traditions and storytelling to fourth-grade students in the library at Dr. John Codington Elementary School.
Entrancing the audience with African rhythms on the djembe, a slow cadence of call-and-response spirituals, and spoken word poetry, the Weatherfords immersed students into the world of the African-American experience. The Weatherford family history was told through their published literature. African American traditions of storytelling sessions with grandparents and African Americans who changed the world highlighted the visit.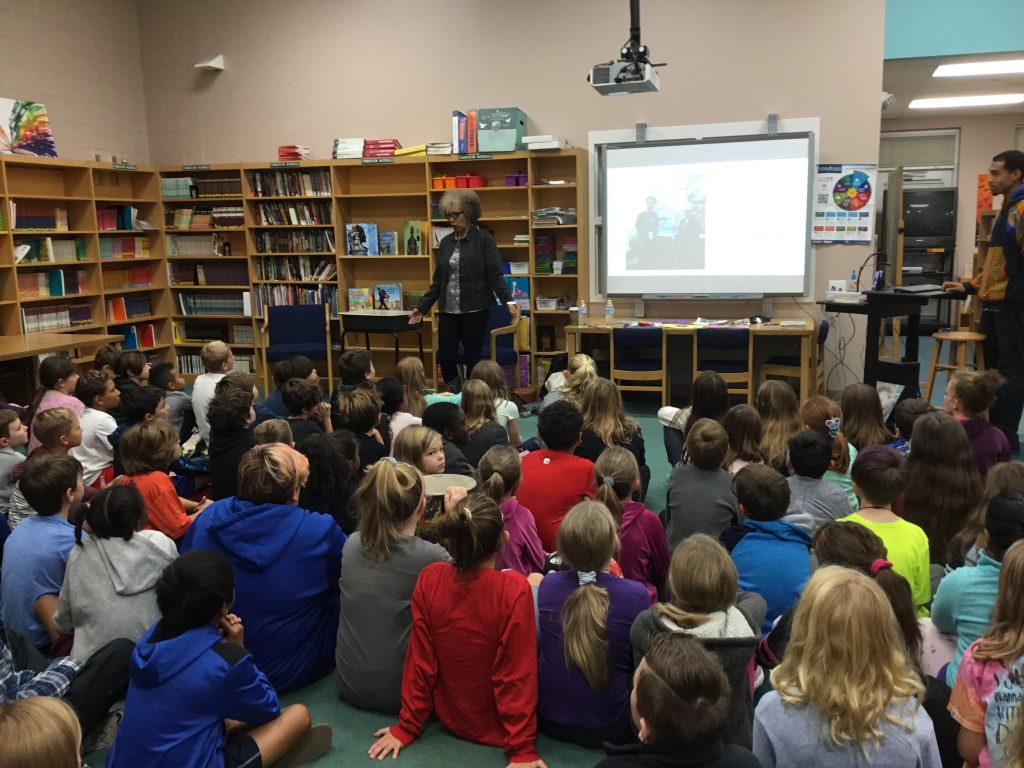 Between taps on the tambourine and the pulsing of the shekere, Carol and Jeffrey Weatherford showcased North Carolina's participation in critical events from the Civil Rights movement during their read alouds of CSK John Steptoe Award Winner Freedom on the Menu: The Greensboro Sit-Ins and Sink or Swim: African American Lifesavers of the Outer Banks.
Jeffrey shared his early illustrative works from childhood. Students asked questions about his journey to becoming an award-winning illustrator. His interests in art began when his family celebrated his early class doodles drawn when he was supposed to be taking notes in class and framed his works. He told the students about self-portraits and anime drawings. Jeffrey enamored the students with a time-lapsed video of his illustrative process.
Making music with their spoken word and lyrical presentations of their published works, the Weatherfords graced the Codington school community with an incredible experience and performance that ignited continued studies in African American history, the African diaspora, and award-winning literature that continued throughout the school year.
Students' non-fiction studies with Weatherford's texts continued long after their visit during remote learning. CSK Author Honor title Becoming Billie Holiday and CSK Illustrator Honor title Before John Was a Jazz Giant were utilized during their studies during International Jazz month and Black History Month. Archival footage of Billie Holiday and John Coltrane's performances entranced the students while showing them the inspiration for Weatherford's works.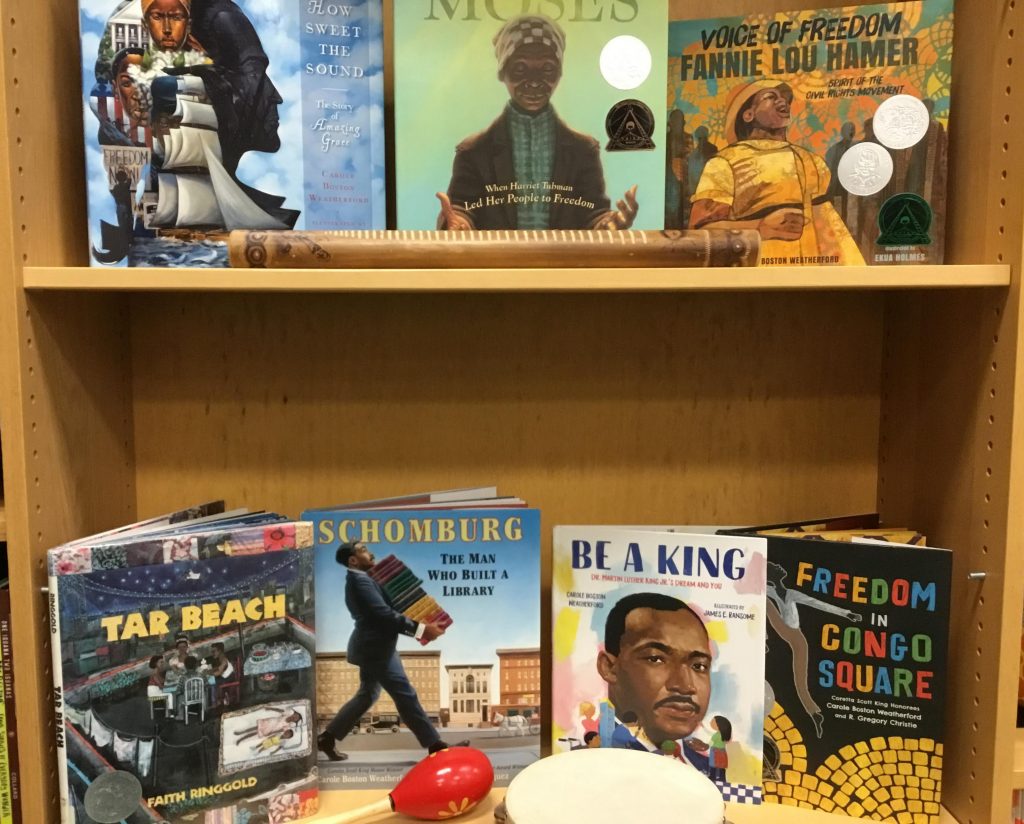 A regular rotation of book displays along with the integration of Weatherford's texts during instruction, both in-person and remote, enriched students' understanding of the historical impact made by the Greensboro Four, John Coltrane, and Billie Holiday. Thanks to Carole Boston Weatherford's texts and her visit, fourth-grade students in the Codington Elementary library have fortified their understanding of African American heroes, traditions, and storytelling and are enthusiastic about continuing their learning.
— — —
Delandrus Seales is a member of the CSK Executive Board as the CSK Publications Standing Committee Chair and a member of the CSK Technology Standing Committee. She is a Branch Manager with Onslow County Public Library, and a former school librarian in North Carolina. Delandrus completed her M.L.S. at East Carolina University and her M.S. Ed at the University of North Carolina at Charlotte.