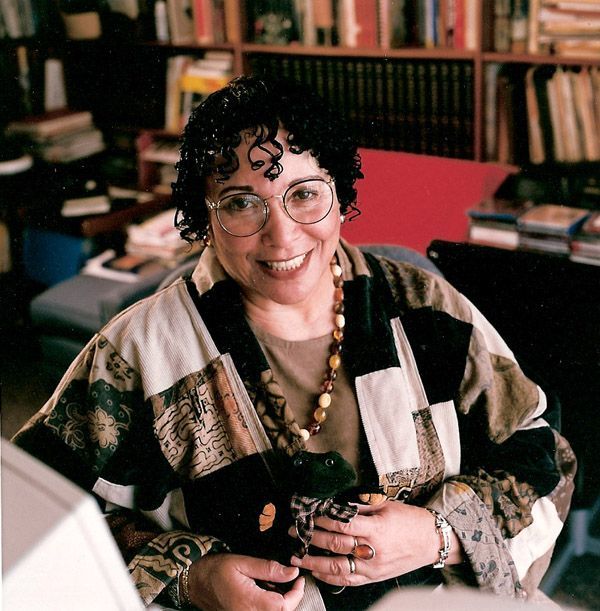 As we celebrate the tenth-anniversary of the Virginia Hamilton Award for Lifetime Achievement and the authors, illustrators, and practitioners who have received it, it is also important to reflect on the life of Hamilton herself, an indomitable woman whose innovative work brought stories of African-Americans to the international literary stage and forever changed the field of children's literature. Hamilton would later credit her grandfather, Levi Perry, for instilling the gift of storytelling within her.

During her Coretta Scott King (CSK) Book Award acceptance speech for The People Could Fly: American Black Folktales, Virginia Hamilton noted that "Levi Perry's life, or the gossip about his days, has elements of mystery, myth, and folklore…It's from hearing such tales that I became a student of folklore." Levi began his life as a slave, but when he was five-years-old, his mother smuggled him out of Virginia and managed to get him to relatives in Ohio, where he was raised as a free man. That story of maternal sacrifice and the flight to freedom had an indelible impact on Hamilton, who said, "And this was the original story as far as I'm concerned…That was the beginning of the family culture."

After marrying Rhetta Adams, Levi settled on farmland in Yellow Springs, OH, where Rhetta's family had lived since the 1850's. The couple had ten children including Etta Belle, who would become Virginia's mother. As she grew to adulthood, Etta Belle rebelled against Levi's rules, particularly his insistence that she only date ministers. While visiting her sister Bessie and her husband in Canada, Etta Belle met her future husband, Kenneth James Hamilton, by chance at a ball. Kenneth graduated from Iowa State Business College in the 1890's but was told that no one would hire a black man as a banker. A series of odd jobs brought him to Canada where he and Etta Belle fell in love and were married. They returned to Yellow Springs and started a family on a twelve-acre farm while Kenneth took a job as the manager of the Tearoom, a dining hall at Antioch College. Virginia, the youngest child, was born on March 12th, 1934 and was named for her grandfather's home state.

Even as a child, Virginia's life was inundated with stories. Her mother put her to sleep with tales such as Br'er Rabbit and the Tar Baby while her father regaled her with tales of real life African-American heroes like W.E.B. Du Bois and Paul Robeson. The Sherlock Holmes mysteries she and her father read together became the inspiration for Virginia's novel The House of Dies Drear (1968), while a picture of the Watusi people found in her father's magazine collection influenced her first novel, Zeely (1967). Inspiration for her more than 40 books emanated from her bucolic childhood in Yellow Springs as much as from stories her family told. During adventures wandering through her family's land and the neighboring glen, Hamilton stumbled upon a ramshackle grand hotel, the memory of which she drew upon for Dies Drear and M.C. Higgins the Great (1974).

Hamilton discovered her career path while working with her father at the Tearoom during high school. Antioch College was integrated, and Hamilton encountered students of diverse backgrounds, many of whom were from New York City. After three years of studying writing at Antioch, Hamilton transferred to Ohio State University as a literature major in 1956. A professor encouraged her to pursue writing in New York City, and after graduation she moved to the East Village, working as a receptionist, an accountant, and a singer to make ends meet. Hamilton's big break came when Janet Schuetz, a former classmate and wife of an ad writer for Macmillan Publishing, was impressed with a short story that Hamilton wrote in college and encouraged her to turn it into a children's book, a path Hamilton had never considered. That book became Zeely. Critics enthusiastically embraced Zeely, which not only prominently featured black characters, but was a story whose plot did not revolve around racial struggles. The American Library Association recognized Zeely as a Notable Book, the first of many awards that would come Hamilton's way during her long career.

In 1975, Hamilton won the Newbery Medal for M.C. Higgins, becoming the first African-American writer to win this prestigious award. She would go on to win the Laura Ingalls Wilder Award, the de Grummond Medal from The University of Southern Mississippi, and The Hans Christian Andersen Award for Writing, the highest international honor for a children's book author or illustrator. Central to her success is Hamilton's focus on relatable characters and deep reverence for children and childhood. In her acceptance speech for The Hans Christian Andersen Award, Hamilton said: "Indeed, it is often said that we authors write especially for children because our childhoods were so vital and heartfelt that we cannot let go of them, ever. But I do write about childhood awareness out of my rich, country experience. I truly loved being a child. I still keep inside me that curious six-year-old, that ten-year-old lover of pranks and jokes, and the defiant thirteen-to-fourteen-year-old."

Virginia Hamilton's death in 2002 from breast cancer left a void in the children's literature world that can never be filled, but her legacy of storytelling lives on to be cherished and celebrated by generations of young people who, thanks to her, see themselves reflected in literature. Learn more about her by visiting http://www.virginiahamilton.com/ .

Virginia Hamilton Award for Lifetime Achievement is presented by the Coretta Scott King Book Awards Committee in even years to an African American author, illustrator or author/illustrator for a body of his or her published books for children and/or young adults, and who has made a significant and lasting literary contribution. For additional information, including a list of winners, visit this link.

——–

Rodney Marcel Fierce is a Humanities Teacher at Sonoma Academy in Santa Rosa, California and is finishing his dissertation for his English doctoral program at The University of Southern Mississippi. He is a member of the CSK Marketing Committee.