Anything you can do that can stimulate the imagination of another…is the most exciting thing you can do as an artist. ~Ashley Bryan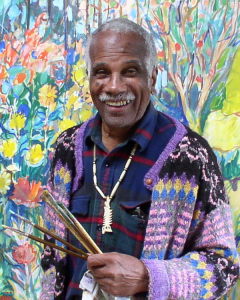 With 50 books to his credit, Coretta Scott King-Virginia Hamilton Lifetime Achievement Award winner Ashley Bryan creates beautiful mindscapes for children.  Full of love of life and humanity, his body of work shares the stories of people of the African Diaspora as preserved in songs, poems, and folktales.  
In tribute to his longevity, Atlanta's Alliance Theatre has staged two plays based on the works of the beloved artist, teacher, and scholar.  Dancing Granny and Beautiful Blackbird, winner of the 2004 Coretta Scott King Illustrator Award, are the books selected for production by the Alliance's Theatre for the Very Young. The plays complement the exhibit Painter and Poet: The Wonderful World of Ashley Bryan on view at the city's High Museum of Art until January 21, 2018.  

The opening voice of  The Dancing Granny is a character patterned after Ashley Bryan himself.  He is the tale weaver and griot whose narration and fancy footwork bookend this tale inspired by Mr. Bryan's memories of his grandmother.   
Elaborate lighting and vibrant costumes along with Afro-Caribbean choreography and a range of percussion instruments– some made by the children in the audience as a pre-show activity– all come together to set the joyful tone of this show which encourages children's expressive engagement.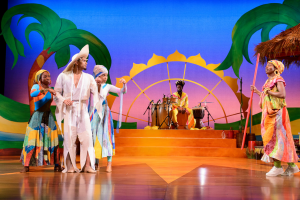 Beautiful Blackbird is more understated than The Dancing Granny. Arranged like an interactive playground for babies and toddlers, children sit on felt sun patches that encircle a chuppah-style canopy. Bold quilts depicting night and day serve as backdrops for live electric guitarists who strum jazzy lines while the young ones roam and play.
The audience hears Blackbird before they see him.  When he emerges, with rhinestones glimmering like dewdrops from his dark wings, he glides about the set, coaxing rhythm from his djembe.  The little ones play along on miniature African drums as Blackbird shares his musical gifts with the multi-colored members of his flock.  The message: know your beauty, find your unique groove.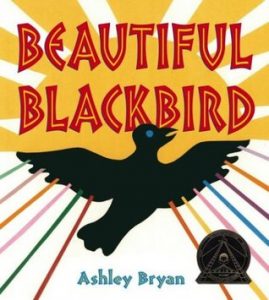 Eugene Russell IV, who played the griot-tale weaver Ashley Bryan in The Dancing Granny and composed the music for Beautiful Blackbird, says: "The story is an unapologetic celebration of blackness which at the same time encourages all kids to be who they are, that who they are is beautiful, and enough. I think that's a beautiful combination." He goes on to say that stepping into the world of Ashley Bryan "really did change me life in a wonderful and beautiful way. I'm a forever fan. It will always be a part of my family's life."
To learn more:
Ashley Bryan Speaking About the Coretta Scott King Award
Post by Jené Watson
Jené Watson works as a public librarian at a system in suburban Atlanta, where she coordinates Books in the Barbershop community outreach and Mindful Monday, a family meditation program. She is also the author of The Spirit That Dreams: Conversations with Women Artists of Color (indigopen.com).