The Gregory-Lincoln Education Center, a magnet School for the Performing and Visual Arts in Houston, has chosen their author of the month: Ashley Bryan. The school community celebrated Bryan, a brilliant artist, filmmaker, and storyteller, focusing on Bryan's Coretta Scott King Award-winning book, Beautiful Blackbird.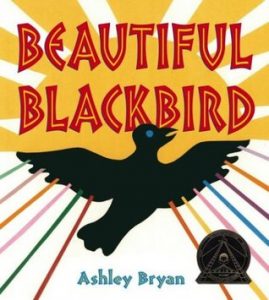 Beautiful Blackbird encompasses timeless themes for both young and old! Without giving away much of the plot, this wonderful picture book includes themes of being true to oneself, loving one's own unique features, and handling the inevitable jealousy/envy that pops up in life. Though it's an adaptation of a Zimbabwe folk-tale, this book has a universal theme of "wonderfully me." Additionally, this book works well for those kiddos who don't feel like they fit in with the popular crowd: "Color on the outside is not what's on the inside."
As School Librarian, I worked with my "lunch-bunch" Blerd Book Club to create a little podcast of our debriefing discussion. Please enjoy our very first PODCAST!
For our younger students (grades 2nd-4th), we kept the lesson simple with four easy steps and, of course, fun. The four steps are "Do Now," "Do Together," Do Next," and "Do Reflect."
DO NOW: Choose your favorite color and defend it with this sentence stem: My favorite color is ______ because of _______.
"I love purple and gold because my mother wears a lot of gold ring and I love to wear my favorite purple dress. In India, gold is a treasure. My mommy says I'm her treasure." Khanak T.
DO TOGETHER: Read the story Beautiful Blackbird by Ashley Bryan.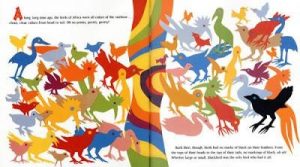 DO NEXT: Create your own community bird pond, decorating your birds like those in the story. (Link to Beautiful Blackbird slides from our 2nd-grade class.)
DO REFLECT: Turn to your shoulder partner and discuss what each of you loves about yourselves for 2 minutes. Be prepared to stand up and share what your partners love about themselves and vice-versa.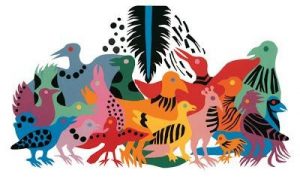 We had a whole nestful of fun celebrating all the beautiful colors in the world! We hope you enjoyed our cut-paper artwork and our thoughtful discussion!
Post by Jean Darnell
Jean Darnell is a magnet arts school librarian from Houston, Texas. She's an avid social media user, active with her state library association and future-ready librarian. Discover more on Twitter (@AwakenLibrarian).