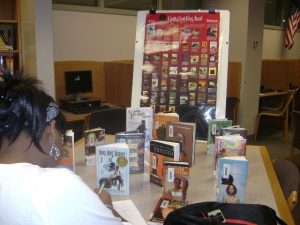 Since 1970, the Coretta Scott King Book Award has recognized "outstanding African American authors and illustrators of books for children and young adults that demonstrate an appreciation of African American culture and universal human values. The award commemorates the life and work of Dr. Martin Luther King, Jr., and honors his wife, Mrs. Coretta Scott King, for her courage and determination to continue the work for peace and world brotherhood." In addition to the winning titles, dozens of worthy books are submitted to the Ethnic and Multicultural Information Exchange Round Table (EMIERT) of the American Library Association for consideration each year.
The CSK Book Awards Donation Grant helps ensure that these valuable materials are distributed to areas of greatest need by offering complimentary copies to organizations, especially underfunded ones, that provide educational services to children and are looking to expand their book collections.
Last year, books were awarded to three organizations: the W.R. Saffold Community Resource Center in Britton's Neck, S.C., the Mayaguez Children's Library in Mayaguez, Puerto Rico, and the Lawrence Memorial Library in Windsor, N.C. The W.R. Saffold Community Resource Center provides after-school homework help, summer programs, and community functions for all ages, and books are readily available for visitors. The Mayaguez Children's Library in Mayaguez, Puerto Rico, focuses on meeting the needs of children aged 2-18 and adults, with many of its efforts dedicated to promoting recreational reading among all members of the community. The Lawrence Memorial Library, part of the Albemarle Regional Library System in Windsor, N.C., provides children with quality books that reflect the community's demographics and gives a bright spot in the lives of people who sustained losses during Hurricane Matthew in 2016.
The Book Grant Donation Committee accepts applications online through January 31, 2018, through the following link.
A complete list of past winners, as well as criteria and guidelines, can be found on the grant website. We will consider applications from any location, but the applicant must pay shipping and handling charges.
Thank you for spreading the word by sharing this post!
Post by Laura Simeon
Laura Simeon is a school librarian and member of the CSK Book Grant Committee living in the Seattle area.