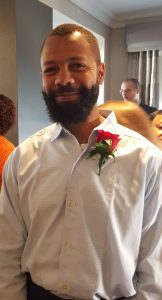 Javaka Steptoe won the Coretta Scott King Illustrator Award in 1998, which was his first major book award. Since then, Steptoe has created a body of work as an illustrator and author and garnered many awards in the field of children's literature. He recently won the 2017 Coretta Scott King Illustrator Award for his book, Radiant Child: The Story of Young Jean-Michel Basquiat. We caught up with Javaka Steptoe, who has been busy traveling outside the United States and touring the children's literature scene.
CSM: Coretta Scott King Book Awards, which will turn 50 in 2019, was the first award to recognize your work. You won the 1998 Coretta Scott King Illustrator Award for the book, In Daddy's Arms I am Tall. How did the Coretta Scott King Book Award help your career?
JS: This Coretta Scott King Book Awards is looked at as an award of excellence in the children's book industry, most of all for children's books of color. It is a major award to start off one's career. It put me on the radar of many publishers and made it easy for me to illustrate my next book, Do You Know What I'll Do? by Charlotte Zolotow.
CSM: You have produced a body of work for children of all ages from Radiant Child; to Jimi: Sounds like a Rainbow; to Sweet, Sweet, Baby, which is one of my favorites; and many more books. What do you hope your readers will know or feel when they finish one of your books?
JS: It depends on the book. Whatever the book is saying, that's what I want the reader to feel. Not on a superficial level but deep in their bones. For example, with Sweet, Sweet Baby, I want the reader to feel the love between mother and child.
JS: I am also interested in complexity. There are lots of ways to talk about a subject. You can talk about it superficially or with depth and nuances. The latter creates a book you can grow with.
CSM: For a young man, it seems like you work all of the time. What do you do for fun?
JS: I read books—science fiction, fantasy, and mysteries. I like books that make you think about the world in a different way. I also dance. I am always taking dance classes such as African Dance, Salsa, Improvisation, and Swing.
CSM: You have accomplished so much so far. What do you see in your future?
JS: Just to keep writing. Keep illustrating. I am interested in strengthening my ability as a writer. I'm also interested in the development of books. My belief is that there will always be paper books. They have a certain quality that cannot be replaced by technology. I see technology as a tool to help expand ideas and content within books.
CSM: Is there anything else you would like to say?
JS: [I would like to say] whatever you do, do it because you love it.
Javaka Steptoe is the son of award-winning author and illustrator John Steptoe and Stephanie Douglas. Both parents were artists. The Coretta Scott King John Steptoe New Talent Award was established in 1995 and named in memory of his father.
Dr. Claudette McLinn is Chair of the Coretta Scott King Book Awards Committee. She is the Executive Director of the Center for the Study of Multicultural Children's Literature.