The University of Southern California (USC) was the site of the 23rd Annual Los Angeles Times Festival of Books. Coretta Scott King (CSK) Book Awards was well represented with CSK Winner and Honor awardees Renée Watson and Jason Reynolds, respectively, as featured speakers at the event. Well over 150,000 people attended the two-day event, April 21 – 22, which consisted of conversations with award winning authors, journalists, celebrities, chefs, artists and musicians.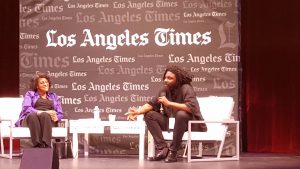 Jason Reynolds,  2018 CSK Honor Author Award winner for  Long Way Down, was a featured speaker who was interviewed on Saturday by CSK Chair Dr. Claudette S. McLinn, who is also Executive Director of the Center for the Study of Multicultural Children's Literature. Reynolds revealed the various aspects of his writing which included why he writes, the reasons for the various themes of his books and the purpose of the open-ended endings of his books and more. It was an informative as well as lively conversation. Long Way Down was also the 2018 winner of the L.A. Times Book Prize for Young Adult Literature, awarded the previous evening.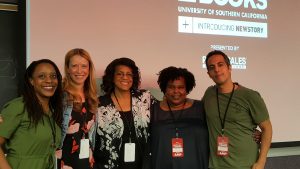 Renée Watson, author of the 2018 CSK Author Award winning book Piecing Me Together, was a member of the panel discussion titled "Secrets and Self Discovery" with members: Brandy Colbert, author of Little & Lion; Robin Benway, author of Far From the Tree; and Abdi Nazemian, author of The Authentics. Dr. McLinn was also the moderator of the Sunday panel discussion. The authors were given the opportunity to summarize their books and explain how each related to the theme of the topic of session. Many thought-provoking questions were raised from the audience, which made it a very energized discussion.
The Los Angeles Times Festival of Books was a high-energy literary experience filled with many author presentations, vendor booths, stage performances and storytelling. Looking forward to next year!
Dr. Claudette McLinn is Chair of the Coretta Scott King Book Awards Committee.  She is the Executive Director of the Center for the Study of Multicultural Children's Literature.