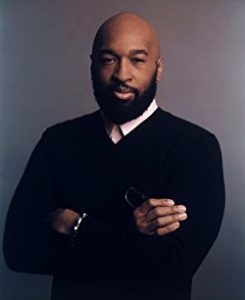 Jina DuVernay: You tweeted that you were excited to see a "shiny, metal sticker" on your book.  What does having the Coretta Scott King John Steptoe Award sticker on your debut novel, The Stars Beneath Our Feet, mean to you?
David Barclay Moore: Having the Coretta Scott King / John Steptoe Award on the cover of my book is the visual realization of a lifetime of hard work and dreams. Ever since I was a child being dropped off at our local library to find books to read, I've recognized the "shiny, metal sticker" of the CSK Awards as a symbol of special books, noteworthy books. Now that my name and the title of my book, The Stars Beneath Our Feet, will be forever associated with that emblem of excellence, I am extremely moved and honored. In some ways, it represents a full circle, from a child who read those books to an author who has written one.
Jina DuVernay: According to a Deadline.com article, you will not only be writing the script for the film version of your award-winning novel, but you will also be the executive producer.   Did you encounter any difficulty in establishing your participation in the making of the film?
David Barclay Moore: I'm very excited to be working with actor/director Michael B. Jordan and his excellent team at Outlier Society Productions on the screen adaptation of my novel, The Stars Beneath Our Feet.  From the very beginning of this process, in fact, our very first conversation, Michael expressed an interest to have me directly involved in the film production. He had done his research and had not only read some of my other creative writing but also watched my film work as well. Throughout this whole process, he's shown a great deal of passion for the story of The Stars Beneath Our Feet, him having grown up similarly to that of my central character, Lolly Rachpaul.
Jina DuVernay: Beyond the movie version of your novel, will we see any more of Lolly in the future?
David Barclay Moore: Lately, I've been very busy working on several writing projects as well as the screenplay to The Stars Beneath Our Feet's film version. While there is no direct sequel planned for my first novel, a few of the characters will pop up elsewhere. I'm a big fan of intertextuality. For instance, I've already written a manuscript, which deals with how the character "Rockit's" story arc resolves itself. Additionally, I have plans for a YA novel that explores the story behind Lolly's graffiti artist friend, Daryl R. But will my protagonist Lolly return? Who knows?
This interview was conducted on May 16, 2018.
Jina DuVernay is the Special Collections Librarian at Alabama State University. She is a member of the Coretta Scott King Book Awards Committee.