"Very often, the way to freedom was not by land, but by sea. Countless slaves made it to freedom with the help of a 'black Jack,' a black seaman or a Nantucket whaleman." ~Patricia and Fredrick McKissack, Black Hands, White Sails: The Story of African American Whalers
Did you know that from the early to mid-1800's, a significant number of free men of color worked as waterfront workers and seafaring men and that Frederick Douglass escaped bondage by disguising himself as a sailor? Or that the early American whaling industry was roughly equivalent to the oil industry of today and was strongly connected to abolition? While it's well known that black people were transported to the Americas aboard slave vessels, many also used ships and various types of maritime work to secure their freedom.   Several CSK Award winning authors and illustrators have written or illustrated books about real and imagined heroes from this fascinating part of American history.
FOR YOUNGER READERS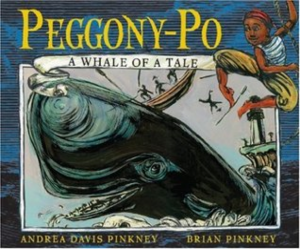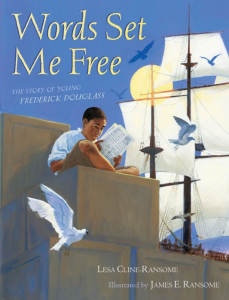 CSK Author Award winner Andrea Davis Pinkney's Peggony Po: A Whale of a Tale is a Pinocchio-meets-Moby Dick tall tale.  This story pairs beautifully with Lesa Cline-Ransome's Whale Trails, Before and Now. In addition, Words Set Me Free: The Story of Young Frederick Douglass, written by Lesa Cline-Ransome and illustrated by CSK Illustrator Honor winner James Ransome, shows the important role that the shipyards of Baltimore and the Eastern Shore played in opening the path to Douglass' bright future.
I, Matthew Henson: Polar Explorer by Coretta Scott King Award winner Carole Boston Weatherford and illustrated by CSK/Steptoe Award winner Eric Velasquez introduces you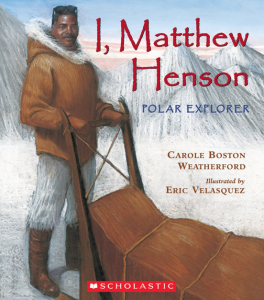 ng readers to Matthew Henson, the groundbreaking explorer who began his career as a cabin boy at the age of twelve. Weatherford's book pairs well with Deborah Hopkinson's Keep On!: The Story of Matthew Henson, Co-discoverer of the North Pole. This teacher's guide supports    the content of both titles.
FOR MIDDLE GRADES AND TEENS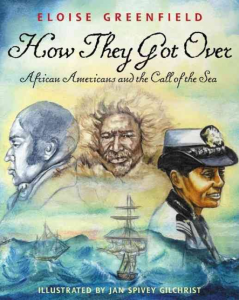 Two rich and informative chapter books about blacks in maritime history are Black Hands, White Sails: The Story of African American Whalers by Patricia and Fredrick McKissack and How They Got Over: African Americans and the Call of the Sea written by 2018 Coretta Scott King–Virginia Hamilton Award for Lifetime Achievement author, Eloise Greenfield and illustrated by Jan Spivey Gilchrist. Both of these CSK related titles can be nicely supplemented with graphic novels The Amazing Adventures of Equiano and The Prison-Ship Adventure of James Forten, Revolutionary War Captive .  
Public and school librarians can incorporate these titles in ocean- and pirate- themed displays or create book bundles that include the above-named titles alongside an assortment of water-themed folktales, nonfiction titles related geography, oceanography, navigation and astronomy.
Classroom and homeschooling teachers can use these books to expand their teaching of topics related to African Americans in the antebellum South and Reconstruction years. Teachers may also choose to incorporate Black Sailors and Sea Shanties, an electronic resource, into their presentation of this material.
Whether offered in the library or classroom, these resources will  shine light upon an often overlooked yet significant aspect of global history.
————————————————————————————-
Jené Watson is a writer, mother and public librarian who lives in suburban Atlanta.  She loves arts and history and is the author of The Spirit That Dreams: Conversations with Women Artists of Color (indigopen.com).