The 1970s were the formative years for the Coretta Scott King Award as new African American writers emerged.  One of those talents was Mildred DeLois Taylor.   Taylor's relationship with the Coretta Scott King Award is a long and illustrious one, spanning more than three decades and resulting in four CSK wins  – Let the Circle Be Unbroken (1982), The Friendship (1988), The Road to Memphis (1991), The Land (2002) – and two honors, Roll of Thunder Hear My Cry (1977) and Song of the Trees (1976). Born in Jackson, Mississippi, in 1943, Taylor tells her own family's story, like that of the Logan family whom she brings to life in her novels, one of pride, struggle, and endurance in the face of oppression. Wishing to raise their daughters in an area offering more economic opportunity and less racial strife, Taylor's parents relocated the family to Toledo, Ohio, when she was three months old. Once a year, however, Taylor returned south to visit her relatives, where she was consistently regaled with tales of their family's history.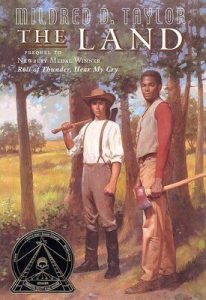 Taylor recalls her father's knack for storytelling with great pride, noting that "These stories of family history were handed down from generation to generation, and as a child I was inspired to pass these stories on." Putting those narratives down on paper was more than a way to make a living; it was a calling that paid homage to her ancestors even as it introduced generations of children to a proud black family whose love and solidarity sustained them through the harshest of times. Her childhood experiences strengthened Taylor's desire to write as one of the only black students in her classes. She was also horrified by how history textbooks downgraded the accomplishments of and injustices suffered by blacks, telling a history of her people that was unrecognizable from the narratives of fortitude and perseverance her own father recounted. Taylor graduated from high school in 1961 and enrolled at the University of Toledo, where she majored in English and minored in history. A frustrating first attempt at publishing a novel (Dark People, Dark World) did not deter her. After earning her Master's in Journalism from the University of Colorado, Taylor moved to Los Angeles in 1971 and worked as a proofreader and editor.
Her big break came in 1973 when a friend told her about a writing contest sponsored by the Council on Interracial Books for Children. The story she submitted was based on her father's life, but she decided to rewrite it from a girl's perspective at the last minute. That tale – which won Taylor the contest and established her career as a children's author – became Song of the Trees, the first installment chronicling the life of the Logan family. Set during the Great Depression in Jim Crow-era Mississippi, the Logans own four hundred acres of land, insulating them from some of the horrors visited upon their black peers who are forced to sharecrop on white plantations. What makes the Logans unique is not simply their land, which is a source of sustenance and pride, but the strength and dignity with which Taylor imbues each character. Taylor admits in her Penguin profile that she "wanted to show a different kind of black world from the one so often seen. I wanted to show a family united in love and self-respect, and parents, strong and sensitive." In the sequel to Song, the Newbery Award-winning and CSK Honor Roll of Thunder, Taylor gave readers a family anchored by three generations of strong black women, most notably Cassie, the nine-year-old protagonist and granddaughter of Paul and Caroline, who purchase the land upon which the family lives.
Rodney Marcel Fierce is a Humanities Teacher at Sonoma Academy in Santa Rosa, California, and is finishing his dissertation for his English doctoral program at The University of Southern Mississippi. He is a member of the CSK Marketing Committee.