Anticipation ran high as the crowd began to gather at 6:00 a.m. for the 8:00 a.m. American Library Association Youth Media Awards on Monday, January 23, 2017, held in the Georgia World Conference Center in Atlanta, Georgia.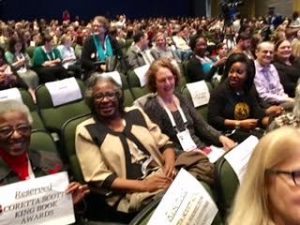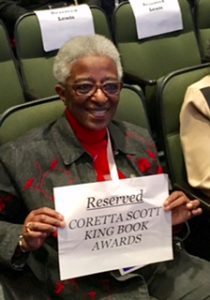 Many distinguished books were published in 2016; the buzz and enthusiasm were practically palatable as one entered the rapidly filling room. As the committees entered to sit in the reserved spaces, we got a shot of the Coretta Scott King committee settling in. The Coretta Scott King Award jury was chaired by Dr. Rudine Sims Bishop, who had a great day herself.
Before the book awards were announced, we learned that Dr. Sims Bishop was honored as the recipient of the Virginia Hamilton Award for Lifetime Achievement. After the standing ovation, CSK Awards Committee Chair Pauletta Brown Bracy had to ask Dr. Sims Bishop to stand so that the crowd could see her!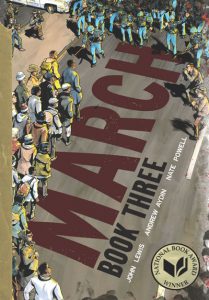 The CSK (Author) Medal was awarded to Congressman John Lewis, Andrew Aydin, and Nate Powell, who won an unprecedented number of awards for March: Book Three, including Printz, Sibert, and YALSA Nonfiction), while the CSK Andrew Aydin (Illustrator) Medal was awarded to Javaka Steptoe for Radiant Child: The Story of Young Artist Jean-Michel Basquiat. Steptoe also won the Caldecott Medal.
CSK (Author) Honors were awarded to Jason Reynolds for As Brave As Me and Ashley Bryan for Freedom Over Me: Eleven Slaves, Their Lives and Dreams Brought to Life. Bryan also won a CSK (Illustrator) Honor for Freedom Over Me: Eleven Slaves, Their Lives and Dreams Brought to Life. CSK (Illustrator) Honors were also awarded to R. Gregory Christie for Freedom in Congo Square and Jerry Pinkney for In Plain Sight.
The John Steptoe New Talent Award was given to Nicole Yoon for The Sun is Also a Star.
Post by Liz Deskins