During the Texas Library Association's conference this year, I checked out the Ultimate Children's Picture Book Illustrators Sketch-Off. This session gave six illustrators a chance to flaunt their skills in front of a large audience. The catch? They had ninety seconds to draw whatever the emcee selected as the topic for each round. As if that weren't nerve-racking enough, the emcee's topics came from the audience. Think Whose Line is it Anyway? with markers and easel pads.
I had the pleasure of speaking to Christian Robinson and Shadra Strickland just before the competition. I asked a few questions in hopes of discovering whether these illustrators were new to Texas and if they were first time TLA attendees. I also wanted to know which side they were on in the big Texas cuisine battle: Mexican or BBQ.
No stranger to Texas, Christian visited San Antonio for his first TLA experience. Despite never witnessing or participating in a Sketch-Off before, Christian arrived ready and hopeful. He took a break from reading I Know Why the Caged Bird Sings by Maya Angelou to stake out his competition. He's a vegetarian who occasionally enjoys sushi, so the BBQ versus Mexican decision comes with some surprises. Ultimately, Christian prefers Mexican food because there are more vegetarian-friendly options. He does enjoy barbecue sides—mac and cheese and potato salad, to be exact. The crowd kept him pumped, and the strange topics jump-started his creativity. Midway through the competition, Christian shared his connection to an educator in his life, which started a chain of the other illustrators doing the same. He gained victory and made it to the final!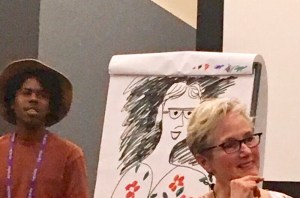 Christian won the audience's hearts when he drew a likeness of illustrator Melissa Sweet.
Shadra arrived in Texas with her copy of On the Road by Gloria Steinem and a determination to win. TLA marks her first visit to the Lone Star State. Surprisingly, one of the first meals Shadra ate in San Antonio was sushi. (We forgive her!) She's more inclined to eat Mexican food while visiting as she frequents places in Baltimore where the BBQ is made with Southern roots. During the Sketch-Off, Shadra fed off the energy of her competitors. She even dropped the mic at the end of Christian's aforementioned chain of educator connections! Shadra's first competition brought her success, and she joined Christian in the final.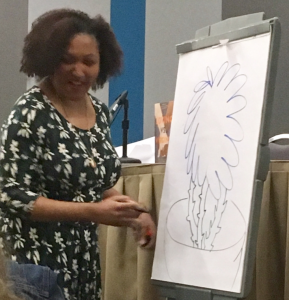 Shadra laughing with the audience as she drew a State Flower that grows out of the toilet for Round 3
Unfortunately, Christian and Shadra didn't win the Sketch-Off. But would they do it again? Christian left a little dazed, but he enjoyed the competition nonetheless. Christian believes the session was stressful but fun, and he may be up for a repeat if the chance arises. Shadra thinks the Sketch-Off had the perfect blend of people, and all the personalities made the session worth it. She found it quite different from something similar she does with museums in Baltimore. Shadra's favorite sketch topic? A poster for a western movie about a town loner whose rival is a skunk! Her illustration involved tomato sauce and a giant pot. Overall, Shadra found TLA to be the friendliest library convention she's attended.
We thank Shadra and Christian for participating, and welcome both illustrators back for a rematch in Dallas!
(photo album of the Illustrator sketch-off)
Post by Monique Sheppherd