If TLA's presiding motto for the 2017 conference focused on owning your profession, then the Black Caucus's annual author's brunch with Bernadette Stanis echoed the idea of ownership with emphasis on owning your voice!
Any young urban child from the 1960-80s knows the television sitcom, Good Times, would not have climbed in ratings nor earned a Golden Globe nomination had it not been for the leading ladies: Esther Rolle and Bernadette Stanis (better known as the mother/daughter duo Florida and Thelma Evans). The voices of these women made the show a reflective model in a world that didn't quite know how to handle Black America on the small screen just yet.
As Bernadette stood before TLA's Black Caucus members, her voice shook with joy and trepidation. She recounted the three women–and the words they used–that altered her life forever.
She began with her grandmother, who pushed her to join the arts, working extra jobs just to finance her love for dancing. Granny's empowering advice: "Don't let fear block you from walking into your destiny."
Then, Bernadette's mother encouraged a young and reluctant Bernadette to enter the beauty contest that led to the infamous audition with producer extraordinaire Norman Lear.
However, it was Bernadette's own voice that piped up to tell a million dollar, successful executive producer, "Mr. Lear, project kids don't talk like this!"
After scripting her own lines and performing as a bolder, sassier young woman, she inched towards her destiny. This pivotal moment of bravery–owning your voice–landed her the role of "Thelma," and made her a primetime role-model.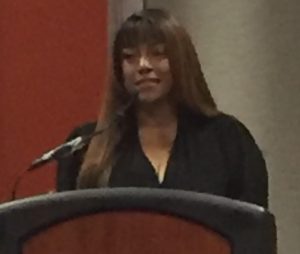 Post by Jean Darnell