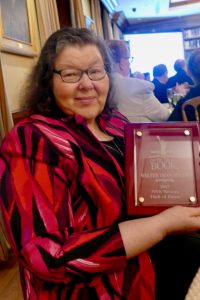 Walter Dean Myers was inducted into the New York State Writers Hall of Fame, Class of 2017, at the New York Center for the Book Induction ceremony on Monday, June 5,2017,  at the Princeton Club in New York City.
Master-of-Ceremonies William Schwalbe noted that among Myers' many accomplishments are  five Coretta Scott King Awards as well as two Newbery Honors, the first Printz Award and the Margaret A. Edwards Award for lifetime achievement. Myers, the author of over 100 books, was also appointed by the Library of Congress as the National Ambassador for Young People's Literature, a post he held from 2012- 2013.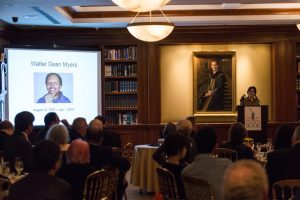 Phoebe Yeh, publisher of Crown Books, Random House, delivered a moving tribute, speaking of Myers connections to New York, where he was raised by his father's first wife, Florence Dean, after the death of his mother.
Accepting the plaque in Myer's memory was his widow, Connie Myers.  Also in attendance were Andrea Davis Pinkney, Vice President and Editor-at-Large of Scholastic Press, Emily Heddleson, Senior Manager of Library and Educational Marketing for Scholastic, and Jessica MacLeish, Editor at HarperCollins.
This is the not the first recognition of Walter Dean Myers by the Empire State Center for the Book. In 2015 during Children's Book Week, the Center for the Book together with United for Libraries and the Children's Book Council honored Myers with the dedication of a Literary Landmark at the George Bruce Branch of the New York Public Library, the library Myers frequented as a child.
Rocco Staino, Director of the Empire State Center for the Book, notes that in Myers' memoir, Bad Boy, Myers wrote, "Harlem is the first place called 'home' that I can remember." This sense of New York as home is reflected in Myers' writing, including the picture book Harlem and the novels Monster and Darius & Twig.  Staino also notes that Florence Dean taught Myers to read in their kitchen, and when he began attending Public School 125, he could read at a second grade level.
Other writers in the Class of 2017 include Lillian Ross, Frederick Law Olmsted, Alexander Hamilton, Ron Chernow, Christopher Morley and William Kennedy.
By Susan Polos