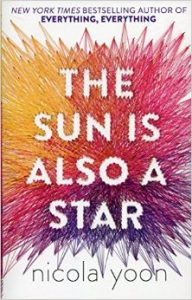 Love. Family. Science. Poetry. Deportation? A fascinating mix of subjects that Nicola Yoon blends very well in her story The Sun is Also a Star, the 2017 Coretta Scott King John Steptoe Award for New Talent.
At the heart of this story is a romance between Natasha, a Jamaican, and Daniel, a Korean American. Natasha is a realist, stating scientific and mathematical facts and figures. Daniel, on the other hand, is a poet who speaks from the heart. When they meet in New York, Daniel believes Natasha is "the one," while Natasha is reluctant to accept feelings and sticks to the facts. For an intense 12 hours in New York City, Natasha and Daniel grapple with their feelings, Natasha's possible deportation, and their families.
However, The Sun is Also a Star is more than a love story. It is also a story about Natasha's and Daniel's family and their cultures. Yoon carefully reveals the family history and culture in short vignettes. Connecting these stories, one learns why Natasha is facing deportation and why Daniel's family owns an African American hair supply store.
Young people will love the intense relationship between Natasha and Daniel. Teachers, on the other hand, will try to figure out how to include this book into their curriculum/and or literary study. The Sun is Also a Star can spark many ideas and activities. Love is such a universal theme that books like The Sun is Also a Star would easily fit in with other love stories. Comparing and contrasting love between characters from different cultures could be compared to other love stories with characters from different backgrounds. Studies in Jamaican and Korean culture would give students a greater understanding of different cultures. Immigration laws, particularly during this time, would certainly be a good topic for any Government/Social Studies course. Because the sun is really a star, students can state scientific facts while also making literary inferences and meaning from the title.
By Karen Lemmons