"There are Black American stories somewhere between slavery and ghetto that deserve telling."

~Joyce Carol Thomas, author, playwright, and CSK Honor Award winner
The Underground Railroad and Canada are well known for their part in African Americans' escape from bondage. However, in their search for peace and freedom, escaped and freed slaves left virtually no land untrod.
Though the story is often marginalized, regions west of the Mississippi River were a Promised Land for African Americans after Reconstruction. The call beckoned as strongly to Black whalemen of Nantucket and New Bedford as it did to hands that harvested cotton, sugar, and tobacco in the Deep South. And while stories about the roles of people of color in the American West are comparatively few, they do exist.
Below is a roundup of outstanding resources. It includes CSK Award-winning titles and other support materials useful in building an enriched and inclusive curriculum.
Black Cowboys, Wild Horses tells the story of Bob Lemmons, the legendary Texas horse tracker. This true account was written by Julius Lester and illustrated by Jerry Pinkney, both CSK Award- winners. Similarly, Black Frontiers: A History of African American Heroes in the Old West by Lillian Schlissel is a collection of powerful photographs that give testament to the mettle of this forgotten band of migrants. Before delving into these texts, teachers can have their students read the Junior Scholastic article, "The Other Pioneers: African Americans on the Frontier."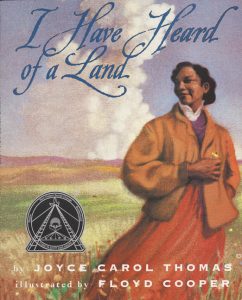 I Have Heard of a Land by Joyce Carol Thomas centers on an African American woman pioneer and is a poetic tribute to African Americans who migrated to the Oklahoma territory. Floyd Cooper illustrated the text with quiet, muted tones that harmoniously blend with the author's voice, an African American writer who had ancestral connections to the region. It beautifully complements Pappy's Handkerchief. The latter is by Devin Scillian (illustrated by Chris Ellison) and centers specifically on the Oklahoma Land Rush. Visit this link for a teacher's guide for Pappy's Handkerchief. 
CSK Award-winning author Patricia McKissack's middle-grade book Scraps of Time: Away West is an intergenerational family saga alternating between modern times and the Reconstruction era of the 1870s. For early elementary school readers, Barbara Brenner's Wagon Wheels (illustrated by Don Bolognese) offers an adventure that charts the odyssey of a father and his sons as they make their way to Kansas. This teacher's guide, along with Nicodemus: The Black Experience Moving West, a short video produced by the National Park Service, pair well with these texts.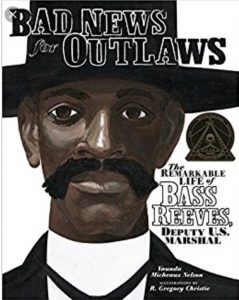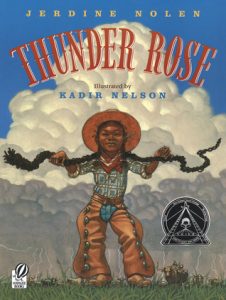 Vaunda Micheaux Nelson's Bad News for Outlaws: The Remarkable Life of Bass Reeves, Deputy U.S. Marshal, tells the story of a man whose life and career took him from a plantation in Arkansas then on to Texas, what would eventually become Oklahoma. Bad News for Outlaws was awarded the 2010 Coretta Scott King Author Award. Gregory Christie, the book's illustrator, was awarded a Coretta Scott King Illustrator Honor. Another with a similar setting and feel is Thunder Rose, written by Jerdine Nolen and illustrated by Kadir Nelson. Nelson was recognized for this work with the 2008 Coretta Scott King Illustrator Honor. It's an amusing tall tale with dense text and lovely illustrations that evoke the grace and grit woven into prairie life.
Librarians and educators wishing to expand their coverage of this complicated segment of United States history can enrich their collections and class content with these books that explore the African American experience and contribution to Westward Expansion.
Post by Jené Watson
Jené Watson works as a public librarian at a system in suburban Atlanta, where she coordinates Books in the Barbershop and family meditation programs. She is the author of The Spirit That Dreams: Conversations with Women Artists of Color (indigopen.com).