Our Voice: Celebrating the Coretta Scott King Illustrator Awards is an extraordinary exhibit paying homage to the illustrators of the Coretta Scott King (CSK) awardees who were recipients of winner and honor awards of the Coretta Scott King Books Awards Committee, from the beginning honoring George Ford, first CSK Illustrator Award winner, in 1974 for his winning illustration of the book Ray Charles written by Sharon Mathis.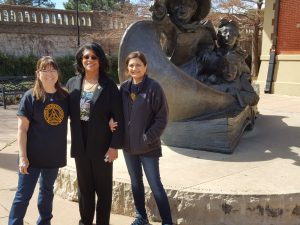 This is the largest collection of CSK illustrations, with over 100 works on display at the National Center for Children's Illustrated Literature (NCCIL) located in Abilene, Texas. This exhibition was curated by Debbie Lillick, Director of Exhibitions, and Sujata Shahane, Director of Exhibitions Programming, in partnership with the CSK Book Awards Committee.
On March 4 and 5, 2018, Dr. Claudette McLinn, Chair of CSK Book Awards Committee, was a special guest to address civic leaders, including the mayor of Abilene and school and public librarians. She gave a historical perspective of the origins of the CSK Award. Dr. McLinn stressed in both presentations, as quoted by Brian Bethel of Abilene Reporter-News," When you walk into a room, you want to see something of you there." She further stated, "And when something of you is there and it looks beautiful, you know I matter, you know I'm important, you know I'm not invisible, and that's why it's important for people to see themselves in books and on walls."
Dr. McLinn also gave the librarians insight into how to utilize the CSK website's many resources to enhance their library program.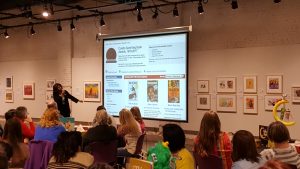 The exhibition ended on May 19, 2018. To date, this exhibition will travel next to the Eric Carle Museum and on to other venues for the next two years. For information regarding the NCCIL, please click on their website: www.nccil.org.
Dr. Claudette McLinn is Chair of the Coretta Scott King Book Awards Committee. She is the Executive Director of the Center for the Study of Multicultural Children's Literature.