Four days after winning a Coretta Scott King Author Honor Award for The Hate U Give, Angie Thomas attracted over 500 patrons to Downtown Cleveland.  Not only was this one of the most significant author events the library had witnessed in a while, but it was also the most diverse.   Several generations of book lovers of all colors came to hear Angie speak; some drove hours from out of town to be present.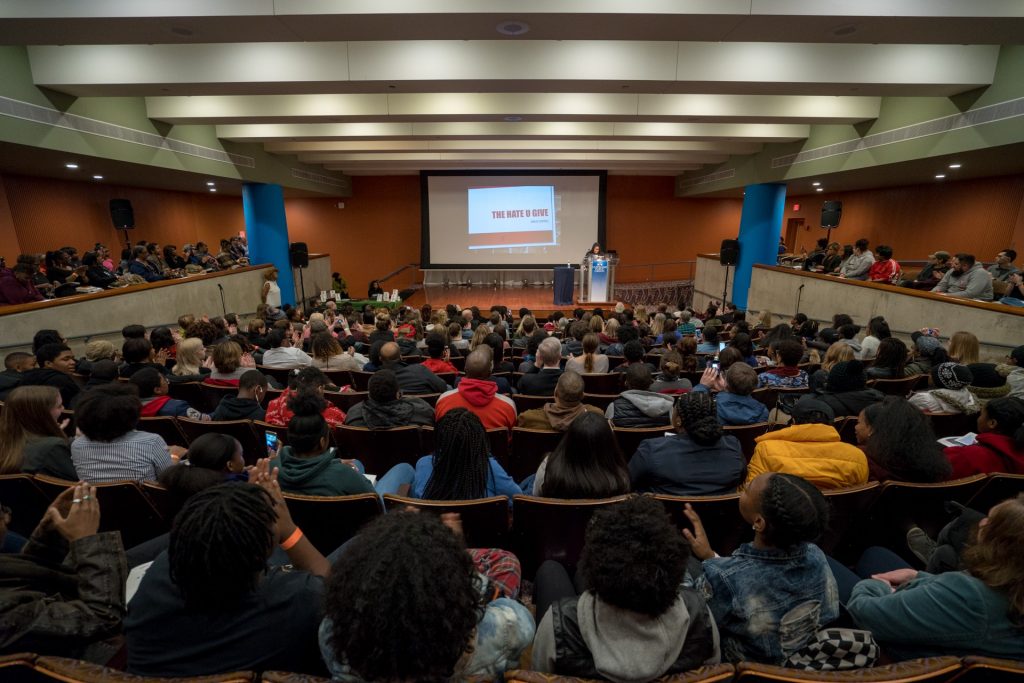 On a cold Saturday morning in Cleveland, Ohio, in February 2018, a line formed in front of the Cleveland Public Library's Louis Stokes Wing auditorium doors two hours before they were scheduled to open.  An abundance of local high school students, college students, professors, and neighborhood book club members from the Fair Fax community were dropped off by the bus.  Auditorium seats became scarce, overflow seating began to fill up inside the Indoor Reading Garden, followed by seating on the second floor.  Unfortunately, once we reached the maximum capacity of 500, patrons had to be turned away. 
Thomas' presentation was just as raw and humorous as her debut novel, as she spoke on her love for the Cleveland Cavaliers and the movie Black Panther, released the same weekend of her visit to Cleveland.
The shooting death of Oscar Grant III, a 22-year-old black man killed by a police officer at Fruitvale BART Station, motivated Thomas to create this novel, which began as a short story.  Thomas explained the title, which is inspired by Tupac Shakur's T.H.U.G. L.I.F.E. tattoo, The Hate U Give Little Infants F*s Everyone. 
"Last year, more than 900 people were killed by police.  People should care more about that number than the number of f-words." Thomas said, after discussing the banning of her book in a suburban school district in Texas and how students fought to get T.H.U.G. back on the shelves.
The question of colorism in selecting Amandla Stenberg in the Fox 2000 film did arise.  Thomas informed the oversized crowd, just as she did on Twitter that she was not involved in casting but fully supported Stenberg and hoped people would give her a chance.
In closing, Thomas addressed young people in the audience, informing them that their actions mold the future. Thomas let the crowd of 500 plus know, "I am here to beg you to change the world."
Having served on the 2016-2018 Coretta Scott King Book Awards jury, I am cognizant of thoughts jurors may have; that great feeling of knowing your team got it right.   This author event, which is still discussed until this day, was proof that Angie's book was as powerful as our committee believed it to be.
The Hate U Give is one of many titles representing the spirit of Dr. Martin Luther King Jr. and Mrs. Coretta Scott King.  After Angie Thomas' author visit, the Cleveland Public Library hosted an author event featuring Coretta Scott King Author and Illustrator Honor Winners for Crown: An Ode to the Fresh Cut, Derrick Barnes and Gordon C. James in partnership with Case Western Reserve University Schubert Center for Child Studies, The Cleveland Foundation and Anisfield Book Awards. Our most recent visit was from Floyd Cooper, Coretta Scott King Honor, and Illustrator Winner, in partnership with A Cultural Exchange.   As we celebrate 50 years of the Coretta Scott King Book Awards, I am truly honored to share the work our CSK community upholds with patrons in my neighborhood, spreading peace and love through literature.  
Erica Marks is Corresponding Secretary for the CSK Book Awards Executive Board. She is Youth Outreach & Programming Coordinator for the Cleveland Public Library.