On Sunday, June 24, 2018, in New Orleans, I attended my very first Coretta Scott King Awards Breakfast where Jason Reynolds warmed up the room by saying, "My cousin comes to visit and you know he's from the South, 'Cause every word he says just kind of slides out of his mouth," and BOOM, just like that the room remembered and followed along, chuckling softly. I hadn't heard or thought about those words since I was a little girl, but in an instant I smiled and went back to being little-me, peering inside the little pocket-sized gem that is Honey, I Love and Other Love Poems.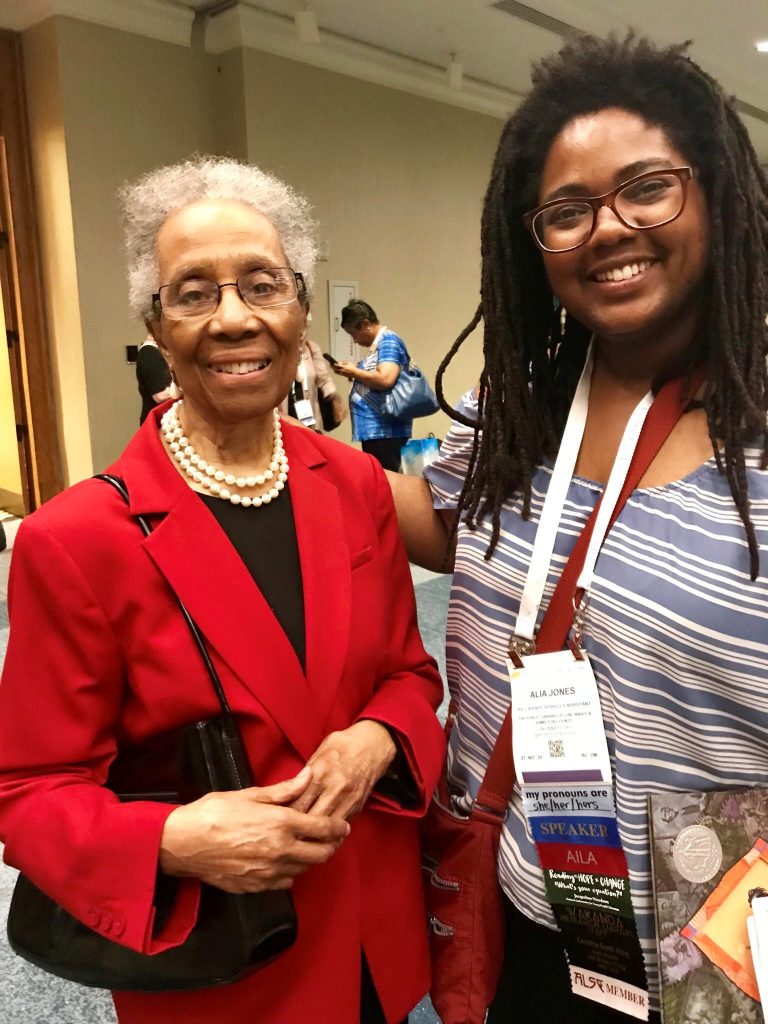 I had the pleasure of meeting Eloise Greenfield the day before the Coretta Scott King Awards Breakfast at her Virginia Hamilton Award celebration. I stood outside of her circle of admirers, friends, and greeters waiting for my turn to say hello. I told her how much I love and appreciate her work and then asked if I could take a quick picture with her. She has a quiet, kind manner about her.
A few months later, I remembered Jason Reynolds telling us at the breakfast that he kept a copy of Honey, I Love in his back pocket when he was young because it was an important text for him. So, I went to the bookstore and bought myself a little paperback copy, too. Though I consider it part of my "canon" of black children's books, I'm pretty certain I never owned a copy as a child. But, because the book has been on my mind lately, I included it in a guest lecture I gave this past March at Cornell University. The title of my lecture was: Challenging the White Default: Diversity and Representation in Children's Literature.
I enjoyed rediscovering the book in preparation for the lecture; it's such a gorgeous celebration of black childhood. Unfortunately, I forgot to bring my copy with me to Ithaca, so I visited the Tompkins County Public Library to copy down the first poem, "Honey, I Love." I opened my lecture by showcasing books I loved in addition to Honey, I Love like I Need a Lunch Box, Mufaro's Beautiful Daughters, and Jambo Means Hello. And then I spoke "Honey, I Love" out loud and into existence in that space. I wanted to show the power, endurance, and beauty of diverse children's literature, of black children's literature. It was such a privilege to share it.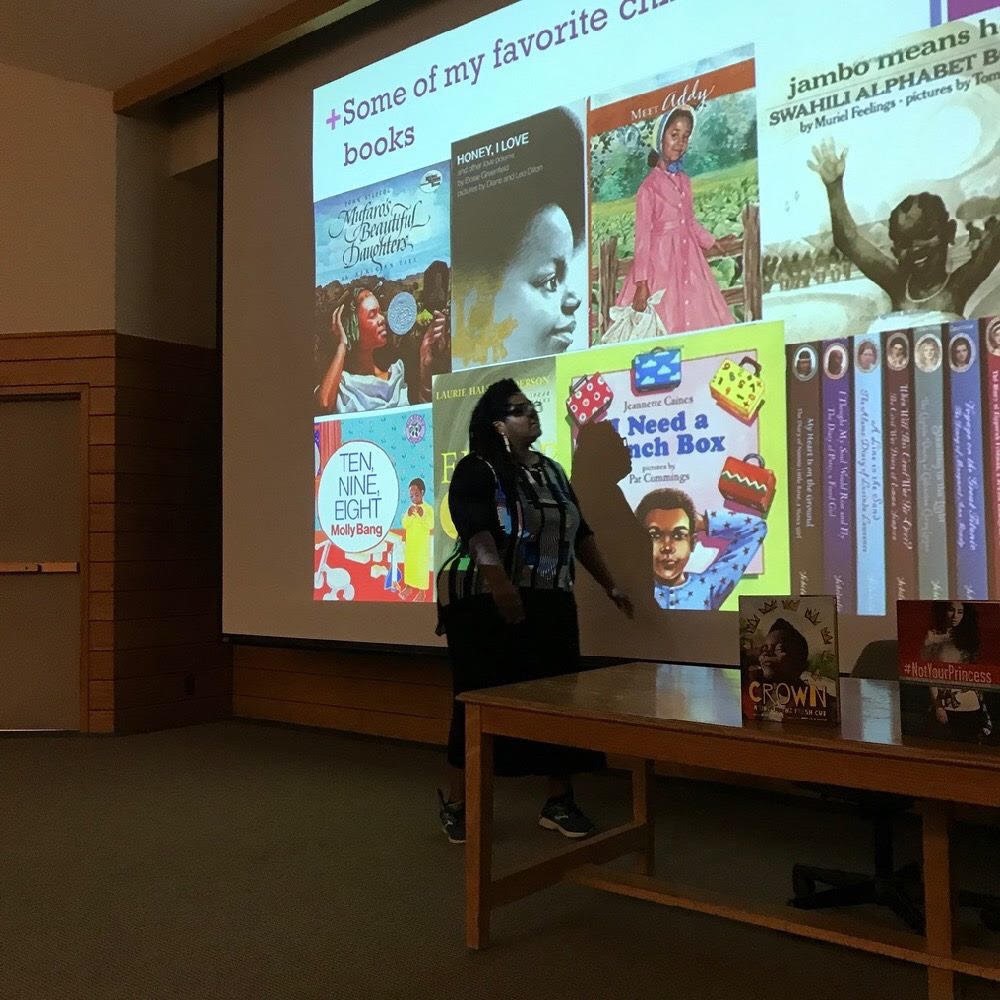 I lectured at Cornell University only a few weeks after my mother passed away from a long battle with colon cancer. This stanza of the poem really resonated with me: "My mama's on the sofa sewing buttons on my coat / I go and sit beside her, I'm through playing with my boat / I hold her arm and kiss it 'cause it feels so soft and warm / Honey, let me tell you that I LOVE my mama's arm / I love to kiss my mama's arm." My mama had a soft, brown arm, too, and I'm grateful for such a vivid, positive image of black motherhood and love.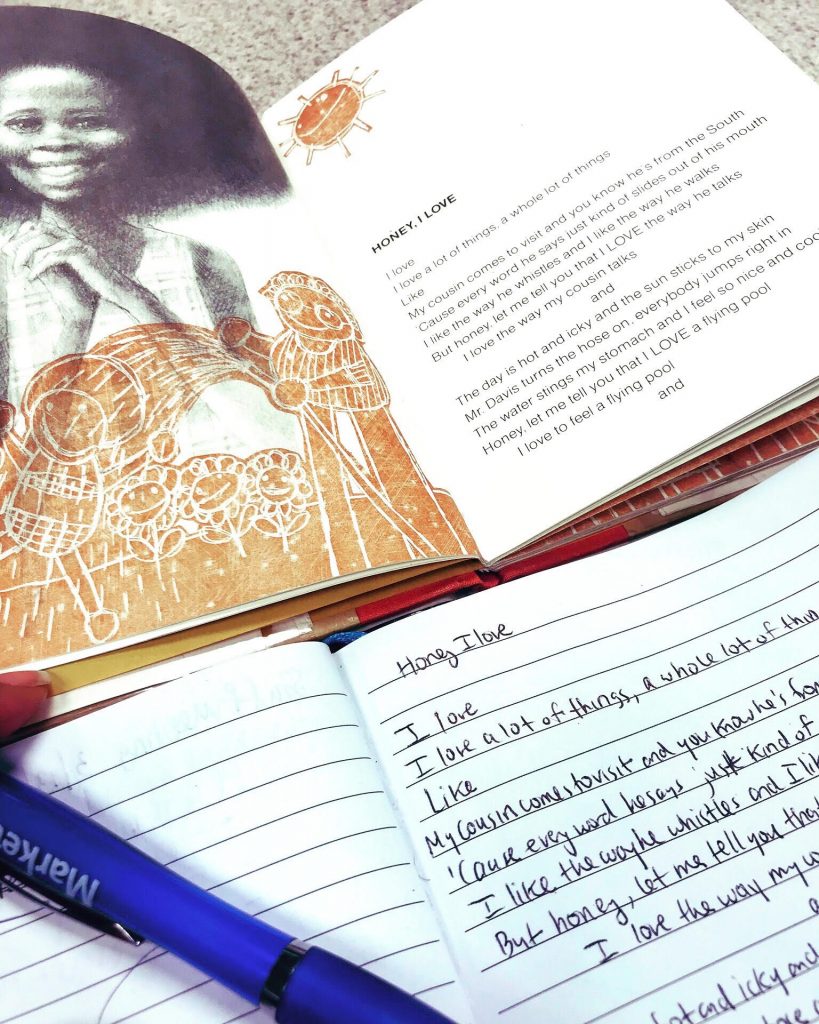 It's important that black children grow up seeing themselves in all shades & variations of blackness in books. The Coretta Scott King Book Awards do such important work in highlighting and celebrating these stories, authors, and illustrators. As a kid growing up in the 90s, it wasn't easy to find many beautiful images of blackness in books, but when I found texts like Honey, I Love by Eloise Greenfield, they reassured me that my black existence mattered. I'm so thrilled to celebrate fifty years of the Coretta Scott King Book Awards and can't wait to see what the next fifty years of black books bring for our children.
Alia Jones is a member of the Coretta Scott King Book Awards Committee/Community. She is a Sr. Library Services Assistant at The Public Library of Cincinnati and Hamilton County and blogs at readitrealgood.com.
The photos attached are all mine & are: (1) Eloise Greenfield and Alia Jones, (2) Alia Lecturing at Cornell University, & (3) "Honey, I Love" by Eloise Greenfield.