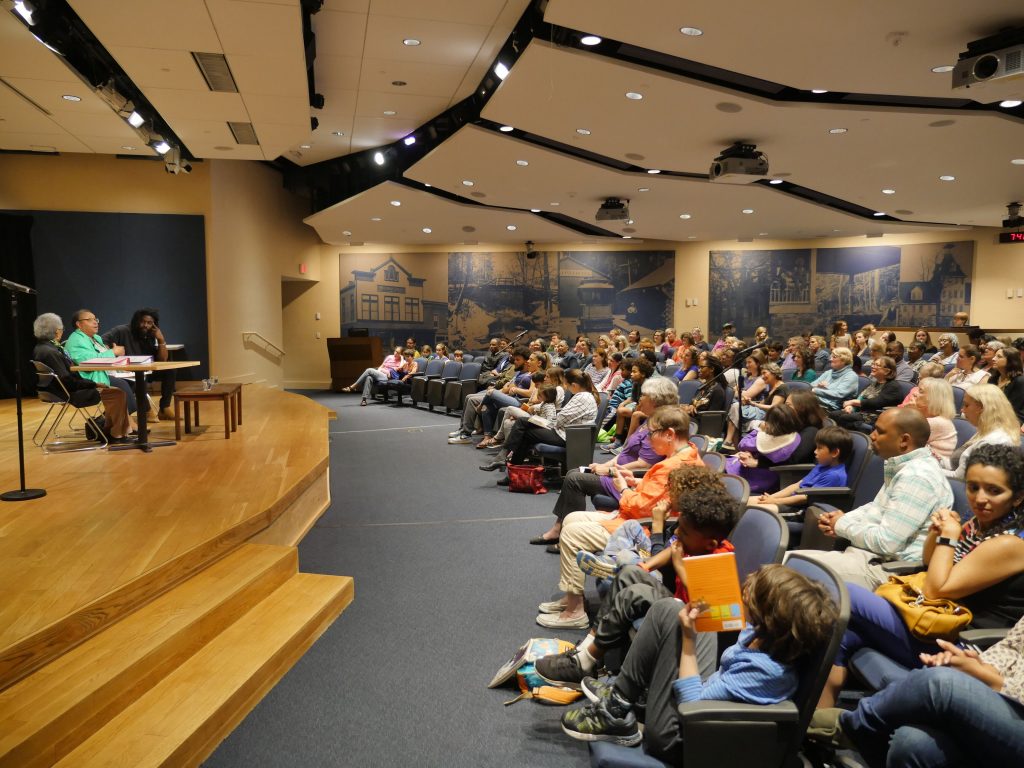 On Tuesday, April 30, the Takoma Park Maryland Library and Politics & Prose hosted a special celebration of the 50th anniversary of the Coretta Scott King Book Awards, and it truly was a conversation for the ages. Skillfully led by moderator Deborah D. Taylor, our two presenters, legendary poet Eloise Greenfield and best-selling author Jason Reynolds, talked about how and why they write for children, their mutual love of the "musicality" of language, and the importance for all young readers to see themselves in books.
Taylor succinctly summed up the importance and celebratory feeling of the evening for the audience of over 150 people by noting that "it is something very special and very unusual to be able to talk to two people who have been both at the beginning of something and at the current level of recognition of outstanding work."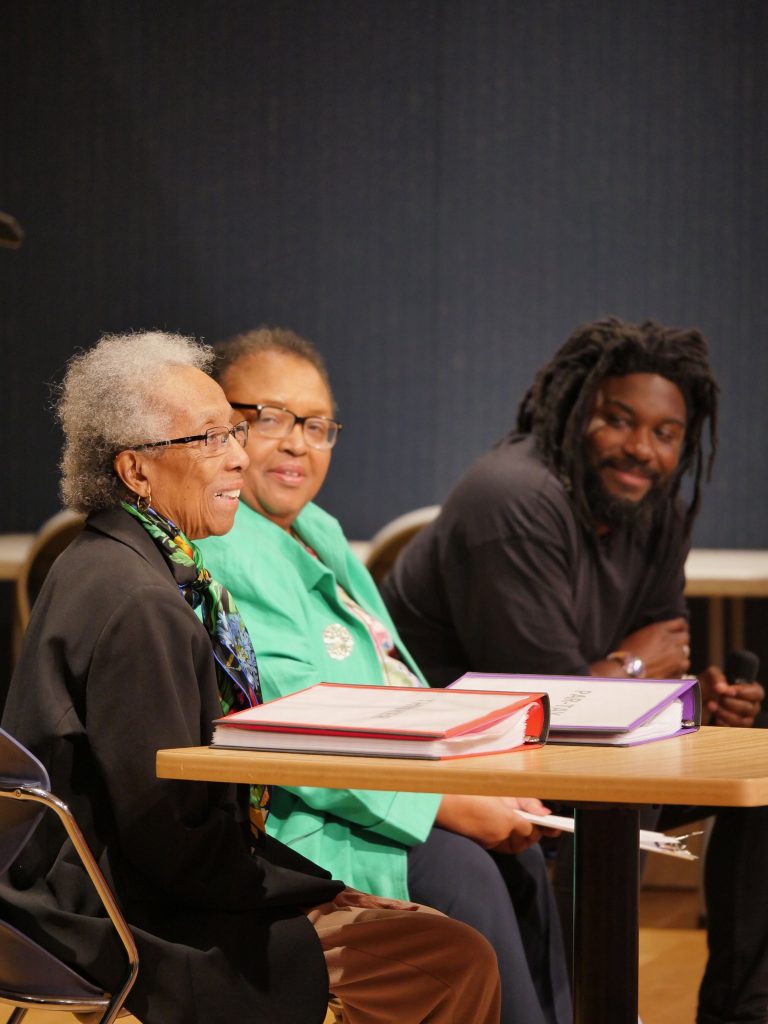 In fact, all three people on the stage at our event were Coretta Scott King Award winners: Greenfield and Taylor are both winners of the CSK-Virginia Hamilton Lifetime Achievement Award (Taylor in 2015, and Greenfield in 2018), and Reynolds has won the 2015 CSK-John Steptoe Award for new talent and three CSK Author Honors. Taylor stunned Reynolds by telling him that only one other author had won Coretta Scott King Awards in four consecutive years: Virginia Hamilton. Reynolds noted in an Instagram post later that evening, "I couldn't believe it. Virginia Hamilton and me. Isabell's son. I'm still reeling from that."
The through-line from Greenfield, who will soon turn 90, to the 35-year-old Reynolds is a strong and personal one. Indeed, Reynolds spoke of how he once worked in a bookstore specializing in African American writers and hand-sold, and also purchased for his own young relatives, many copies of Greenfield's classic book, Honey, I Love. But Reynolds' connection to Greenfield began even earlier; when he was 15 years old, he heard Greenfield read from her books at the main branch of the Washington, D.C. library system.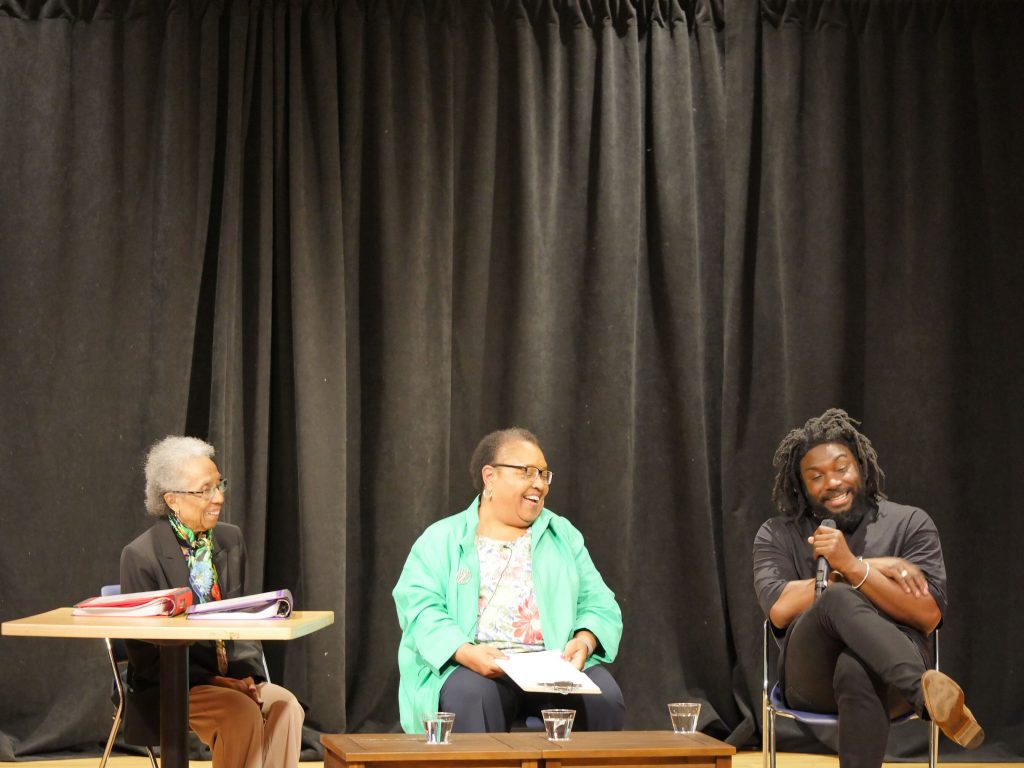 "It means the world to me, 20 years later, to sit next to her and share a stage," Reynolds said, adding that Greenfield's writing "helped me to understand another version of what poetry could be… how much you could say with a bit of brevity."
Greenfield, meanwhile, talked about what drew her into the world of children's literature, with a special focus on African American children. "… it was very important to me to see that this work was being done," she said. "My goal is to make children know how much they are loved…. I want them to be proud of themselves and have confidence in themselves because the world is not always that kind to them and to us who are Black."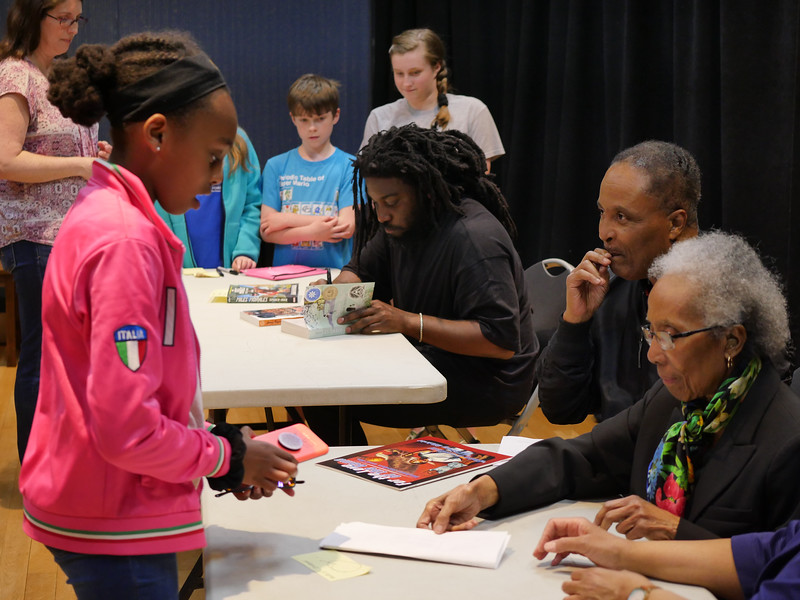 Greenfield and Reynolds also talked about their writing process. In the Q&A following the main presentation, Greenfield, who has just published Thinker: My Puppy Poet and Me, was asked to describe the "peaks" and the "pits" of writing. Greenfield responded, "It's all tough." She added that, because she writes for children, "people ask, 'Didn't you have fun writing this? No, I didn't! I want the children who read it to have fun, but I didn't have fun…. It's hard work, but it's very, very satisfying work." Reynolds agreed, noting, "I tell everyone, 'If you like it, somebody really suffered for it."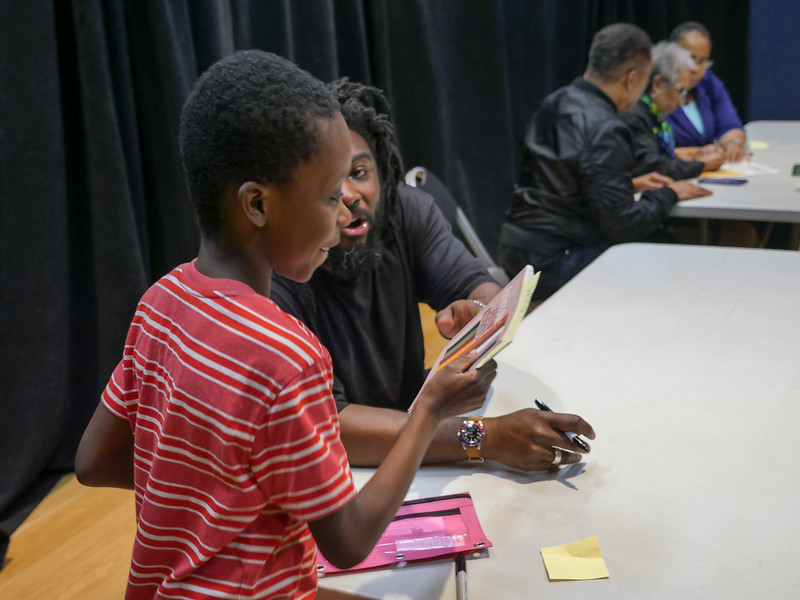 One of the most interesting questions of the evening was asked by a young audience member, who asked if Greenfield and Reynolds would ever collaborate. Reynolds immediately replied, "It would be my dream." Greenfield added, "That would be wonderful."
These are just a few of the many unforgettable moments during our 50th CSK anniversary event. Fortunately, there's a way for everyone to enjoy the entire evening by clicking on this link: https://youtu.be/ulz6JsKoya4. It's well worth watching!
Karen MacPherson is the children's & young adult manager at the Takoma Park Maryland Library, a member of the Ethnic & Multicultural Information Exchange Round Table (EMIERT), and on the Association for Library Service to Children (ALSC) Board of Directors.